Professional baristas spend years learning how to make the perfect cup of coffee, but at home, it's hard to get similar results. The Breville Bambino is a game-changer because, for the first time, you can enjoy professional-quality espresso at home. This machine makes lattes that look like an expert made in a cafe! 
This fantastic new machine can deliver barista-quality results with less than half the price tag of most other devices on the market today. It will give you great-tasting espresso and steamed milk without breaking your budget or your kitchen countertop!
In this Breville Bambino Review, we'll dig deeper into the features and benefits of this impressive machine.
Don't forget to read our What You Should Know Before You Buy section for the juiciest information about this espresso machine.
Quick Overview
Breville Bambino
Pros
Compact coffee machine.
Has programmable dosing.
It comes with pressurized baskets.
Cons
No water temperature adjustment.
Doesn't steam milk automatically.
Has only one year warranty.
Summary
The Breville Bambino is a pint-sized espresso machine meant for coffee lovers and baristas for its essential features. It's not your forever-type espresso machine, yet it allows you to practice preparing espresso and texturing milk. It's a recommended coffee maker for those who want to be adventurous with their coffee because of its semi-automatic espresso machine functionalities.
Coffee Quality & Versatility
4
Overview
The Bambino is the perfect companion for your morning routine. It got all of the features you need to make a great cup of coffee without having to do any work. Just add some beans and wait while it pre-infuses them with water to release their flavor more evenly. Then use its steam wand heated milk frother machine to create espresso or cappuccino, which tastes creamy and rich!
About Breville
Breville is an iconic global kitchen appliance brand that empowers people to do things more impressively or easily in their kitchens. Breville has a history dating back to 1932 with its founding in Sydney, and since then, it has grown into the beloved household name known for boosting creativity through thoughtful design.
Excellent Value
Breville Bambino
Delivering barista-quality performance using a 54mm portafilter with 19 grams of coffee for full flavor and a powerful steam wand to create microfoam required for latte art. With a proprietary Thermojet heating system, the machine is ready to start in 3 seconds. Easy to clean.
Affiliate links / Images from Amazon Product Advertising API or Directly from the Manufacturer. #CommissionsEarned
About the Breville Bambino
The Bambino is a pint-sized espresso machine designed with your budget in mind. It has all the bells and whistles that a practicing barista or a simple homebrewer can ask for.
The Good
This espresso machine is simple to use with its not-so-technical control panel. The brewing process begins with the 2-button control scheme that guarantees fast heat-up in seconds. Milk texturing is a no-brainer with its one-hole steam wand that allows consistent milk texturing. Best of all, you can take home the Bambino fully equipped with hassle-free pressurized brew baskets that work well with pre-ground coffee, too!
The Bad
If you like preparing coffee the intuitive way, this machine isn't for you. It doesn't steam milk automatically, and you won't be able to adjust the water temperature. Plus, its aesthetic design isn't as impressive as other espresso machines in its price range.
The Bottomline
The Breville Bambino is a pint-sized espresso machine meant for coffee lovers and baristas for its essential features. It's not your forever-type espresso machine, yet it allows you to practice preparing espresso and texturing milk. It's a recommended coffee maker for those who want to be adventurous with their coffee because of its semi-automatic espresso machine functionalities.
If you want an espresso machine that's all-in-one with automation, our best bet is either Bambino Plus or Barista Express.
Features & Benefits
The Bambino BES450 espresso machine is known for its compact design. Yet, it prepares impressive espresso drinks that can mimic your favorite brew in a cafe shop. Ever wonder how this small wonder can do it? Here are the features of the Bambino espresso machine you should know.
Performance and Quality
Precise Espresso Extraction
Despite the small size of the Bambino, it can still deliver flavor-packed coffee, thanks to its precise espresso extraction. Coffee bean extraction with BES450 works with the Digital Temperature (PID) in action. This technology provides the water at the exact temperature of +/-2°C, the optimal temperature in extraction.
With the proper water temperature, low-pressure pre-infusion gradually increases at the start of the extraction. This pre-infusion process ensures that all those tasty flavors and notes from the coffee beans are drawn out evenly as the extraction progresses. Thus, a balanced-tasting coffee lands in your cup.
Three-second Heat Up
This stainless steel espresso machine will spoil you with instant flat whites once the ThermoJet heating system activates to heat the device in three seconds. And since this espresso machine is semi-automatic, some of its functionalities are customizable and programmable, so you can skip the line in coffee shops just to get a delicious cup of espresso.
ThermoJet Power Steam Wand
Don't be fooled by this miniature espresso machine, as it can create a silky microfoam for your latte drinks. Its manual steam wand can produce powerful steam at 266˚F. That's why it's a highly recommended machine for starting baristas who want to practice milk texturing and latte art.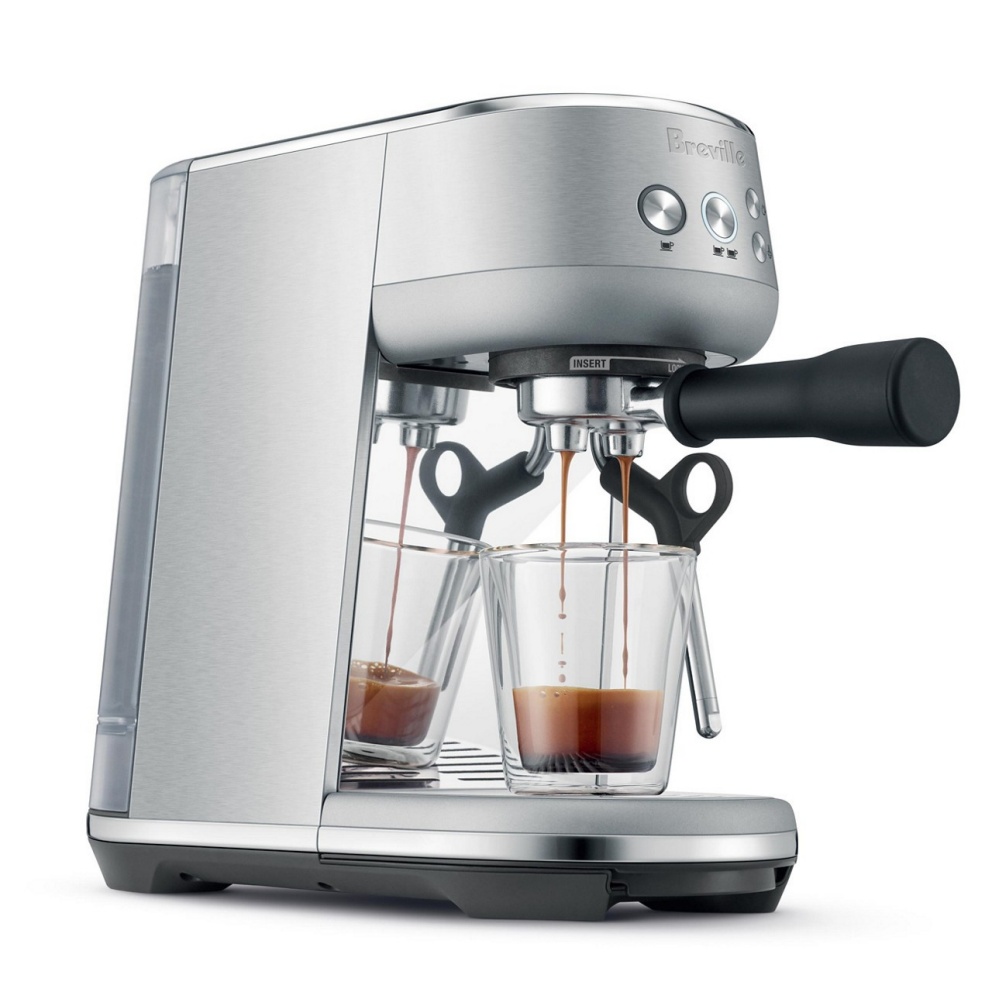 Design
Minimalists will fall in love with the Breville Bambino espresso machine's overall aesthetic. It's not too fancy but not too plain, but it's feature-packed! Brewing coffee with this machine isn't complex with its innovative design.
Compared to other espresso machines of the same price tag, the Bambino boasts a convenient one-touch 1 and 2 CUP volumetric control, steam, and hot water. You don't have to hassle yourself with buttons. Just press the usual switch that allows you to enjoy the perfect brew.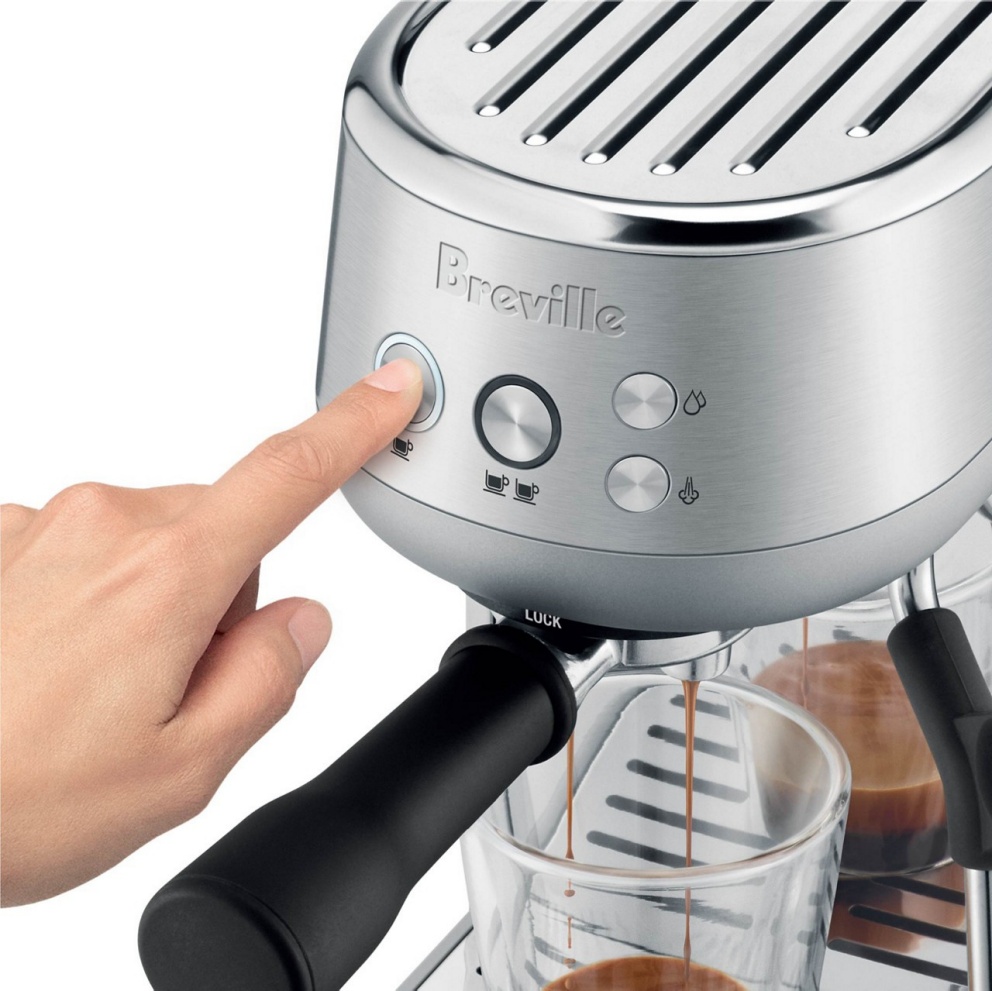 Usability
Programmable Shot Control
The Bambino espresso machine uses the 54mm portafilter to aid in volumetric programming shots for an authentic espresso. A balanced-tasting espresso is guaranteed if you use 19g of coffee beans, which is the critical formula for a full flavor, barista-quality coffee.
Simple Interface
You can prepare coffee anytime you like using Bambino with its one-touch 1 and 2 cups volumetric control, steam, and hot water. You don't need to press lots of buttons to brew coffee because the machine comes with a straightforward control panel for a quick caffeine fix.
Interactive Coffee Brewing
The Breville Bambino comes with a convenient step-by-step interactive 3D set up to assist you in preparing third-wave specialty coffee. This espresso machine comes with an interactive and seamless product setup app in partnership with BILT® Intelligent Instructions. If you're a John Dewey type of person (learns by doing), then downloading the BILT app is beneficial!
Durability
The Bambino espresso machine is carefully designed for homes with limited kitchen spaces but offers incredible features in mind. Though this espresso machine by Breville is built with high-quality brushed stainless steel casing, the internals is made with solid BPA-free plastics.
Surprisingly, every part of Bambino seems to fit perfectly. Compared to Bambino Plus' drip tray that looks unstable when held, Bambino's drip tray easily fits with no hassle.
Specifications
Capacity: 47 fl.oz
Construction Materials: Stainless Steel
Dimensions (WxDxH): 7.7″ x 12.6″ x 12.2″
Power: 1560 Watts
Settings: Control Panel: 1 Cup, 2 Cup, Hot Water, and Steam button  
Voltage: 110-120 Volts
Warranty: the 1-year limited product warranty
Accessories Included
One cup & 2 cup Dual Wall Filter Baskets.
Milk Jug.
Portafilter.
Tamper.
Steam Wand Tip Cleaning Tool.
Descaling Powder
Cleaning
The general rule when cleaning the Bambino is that you have to do it once you see the 2-Cup button LED flashes. Here's the step-by-step process that you should follow in cleaning this kitchen wonder.
Empty the drip tray and re-insert it firmly back to its original position.
Fill the water reservoir with water up to the scale line indicated in the removable storage and add the descaling powder.
Position a 1L or 34-ounce container below the group head and the steam wand.
Press the 2-Cup and steam buttons at the same time for 5 seconds to commence the cleaning process.
Observe the descaling process, especially the mixture in the water tank. Once you see the mixture has been used up, you'll notice that the descaling operation pauses.
Remove the remaining mixture to the water tank and rinse it thoroughly. Afterward, refill the reservoir with water up to its MAX line.
Reinstall the parts back to the machine to proceed to the rinse cycle of the espresso machine.
Press the 2-Cup button again. Once the rinse cycle completes, the coffee machine will go into its ready standby mode.
Cleaning the other parts of the coffee maker, like the drip tray, is also crucial. You'll need to remove and empty the wastewater from the container. Wash and air dry it before you fit it back to the espresso machine. The steps aforementioned are necessary because they will help remove old rancid coffee that can impair your coffee brewing. 
Difference Between Bambino (450) and the Bambino (500)
When you search Breville's Bambino and Bambino Plus on the internet, most of the search results you'll find are Bambino Plus. Don't get confused. These machines are different from one another, and here, you can distinguish which is which.
Bambino
Pros
The drip tray is more solid and well put together
The water tank is removable
It's a newbie user-friendly with its simplistic operation and straightforward control panel.
Manual milk texturing
Dispenses instant hot water
Cons
Internal parts are made of solid plastics.
Operates in basic features not limited to brewing coffee and milk texturing
It only has a 1-year limited warranty
You have to buy a separate steaming pitcher
Bambino Plus
Pros
Has bigger water tank (1.9L) than Bambino (1.4L)
It has a variety of colors to choose from
Allows temperature adjustment and auto-steam wand
Enables users to customize their drinks
Settings are programmable
Has 2-year warranty
Cons
Much bulkier-looking than Bambino
Pricier than the Bambino
What You Should Know Before You Buy
For a coffee lover looking for a straightforward machine that can prepare fantastic espresso without too much of a buzz, Bambino is the most recommended espresso maker. And before you dive into purchasing this little machine, there's a lot of crucial information you need to know before you make a decision.
Bambino is a great purchase but has longevity problems because some of its parts are primarily plastics.
This machine also has a pre-infusion feature that most Breville models in higher ends possess.
It uses nine-bar pressure to extract coffee from the beans.
This espresso maker features manual milk texturing.
Breville Bambino is a user-friendly espresso machine. Any beginner coffee lover won't have any issues preparing the espresso with this machine.
It uses the ThermoJet technology so expect a three-second heat-up rate.
The machine can consistently increase its temperature, thanks to the PID temperature control this machine features.
The volumetric control of this coffee machine can be preset, manually override, or programmed.
You can prepare long blacks or preheat your cups with instant hot water functions through the steam wand.
---
Looking for the ideal roast to use with your coffee machine or espresso maker? Check out some of our favorite coffee bean articles to help you choose the right third-wave coffee:
---
FAQ
What's the difference between Breville Bambino and Bambino Plus?
The Breville Bambino has just three different drink options, which makes it a good starter coffee machine. It can make espresso, macchiato, or cappuccino quickly and easily without any hassle. 

The Breville Bambino Plus upgrades the original with bonus features like finely adjusting the hot water temperature, perfect for blends like Turkish and Indian chai tea. You can also customize your drink with varying degrees of pressure depending on desired texture, from complete to fine foam.
Does Bambino come with a tamper?
Yes, the Breville Bambino comes with a tamper. It is an essential component that packs the coffee beans down into the gasket filter. It also helps to remove any air bubbles from between the grounds of the coffee. It is a vital piece of equipment for anyone serious about making their espresso at home.
How many grams of coffee do I need for Breville Bambino?
You'll need about 19 grams or 1.84 tablespoons of coffee beans for your Breville Bambino coffee machine, but it may take some experimenting to get the perfect cup.

Since all green coffees are slightly different in taste and acidity levels, 17-19g is an excellent range to start with and allows for a bit of experimentation after that. If you decide that you like more or less than this range, adjust your dosage accordingly!
How do you turn off the descale light on a Breville?
A Breville descaler light blinks when the brewer needs to be descaled. Unplug for at least 15 seconds, and you should be able to turn it off.
Alternatives
Are you looking for an espresso machine that can prepare your coffee from bean to froth at a touch of a button? Here's our recommendation you shouldn't miss checking out!
The Breville Bambino Plus
Breville's Bambino Plus espresso machine is perfect for entry-level and moderately skilled coffee enthusiasts. It has a sleek, compact design that makes it ideal for small kitchen spaces! The powerful device can produce rich shots of delicious espresso with the push of just one button – as well as steaming perfectly textured milk on demand.
By upgrading from the Bambino to the Bambino Plus, you can finely adjust the hot water temperature and you can also customize your drink with varying degrees of pressure depending on desired texture, from complete to fine foam.
Excellent Entry Level
Breville Bambino Plus
Proprietary Thermojet Heating System: Innovative ThermoJet heating system achieves the optimum extraction temperature in 3 seconds, ready to make your best coffee without the wait
Adjustable Milk Temp and Texture: It chooses from 3 heat settings and 3 milk texture settings to make your ideal tasting microfoam milk
Hands-Free Automatic Steam Wand: Thermojet powered steam wand creates silky microfoam milk, made for your hands-free ready for latte art. Powerful steam pressure at 266-degree F
Precise Espresso Extraction: Digital Temperature Control (PID) delivers water at the exact temperature for precise extraction. Low pressure pre-infusion, followed by a high pressure 9 bar extraction process delivered via our 15 bar Italian pump
4 Keys Formula: Our espresso machines are designed to use the right dose of freshly ground beans, ensure precise temperature control, optimal water pressure and create true microfoam milk essential for latte art
Affiliate links / Images from Amazon Product Advertising API or Directly from the Manufacturer. #CommissionsEarned
Brewsly Professional Coffee Machine for Espresso, Cappuccino, and Latte
The Brewsly CM6851 model is a super-automatic espresso machine made of durable stainless steel. It uses 15-bar pressure to brew professional, rich coffee. It has dual temperature control to adjust the temperature of water and milk foam separately. With its 2-in-1 filter holder, you can produce 1 or 2 shots at the same time.
15 Bar + Milk Frother
Brewsly Espresso Machine
15 bar professional pressure ensures barista quality espresso every time, visual pressure gauge and adjustable controls allow you to make coffee for your personal taste preferences.
Double temperature control adjusts the temperature of water and milk foam separately, so that the taste of coffee can reach the ideal state, and the milk foam is rich and creamy.
2-in-1 filter holder automatically delivers 1 or 2 shots, always the exact amount of espresso you desire. The Double drip tray is easy to remove to fit taller cups, such as latte glasses.
Adjustable milk frother allows you to adjust the foam and steam levels to customize a variety of delicious espresso-based coffee, dryer foam for cappuccino and micro foam for latte.
6" wide compact design takes up half the space of other espresso machine. Stainless steel body makes it strong and durable.
Affiliate links / Images from Amazon Product Advertising API or Directly from the Manufacturer. #CommissionsEarned
De'Longhi Dedica Espresso
If you're looking for the perfect espresso machine, look no further than the Dedica EC680. This high-quality piece of machinery will make your favorite beverages with ease thanks to its user-friendly control panel and flow stop feature that allows you to choose between one or two shots. The Dedica also has thermoblock technology, brewing the coffee at an ideal temperature in less than 40 seconds!
Verdict
The Breville Bambino espresso machine is a practical choice for coffee lovers who want straightforward espresso. It's a semi-automatic espresso maker where you can prepare your coffee to your demands. It's compact and easy to maintain because it only has the basic features you'll need to make a cup of coffee. It delivers excellent espresso thanks to its low-pressure to pre-infusion quality.

Excellent Value

Breville Bambino

Delivering barista-quality performance using a 54mm portafilter with 19 grams of coffee for full flavor and a powerful steam wand to create microfoam required for latte art. With a proprietary Thermojet heating system, the machine is ready to start in 3 seconds. Easy to clean.

Affiliate links / Images from Amazon Product Advertising API or Directly from the Manufacturer. #CommissionsEarned

Other Breville related articles you may be interested in:

Espresso Machines:

Coffee Makers:

Grinders:

The post Breville Bambino: Starter Espresso Machine with Superb Coffee Quality and Value appeared first on BIG Cup of Coffee!.

By: Cheryl De Torres
Title: Breville Bambino: Starter Espresso Machine with Superb Coffee Quality and Value
Sourced From: bigcupofcoffee.com/breville-bambino/
Published Date: Wed, 04 Aug 2021 11:41:42 +0000