After homemade coffee recipes blew up TikTok and went viral on social media during the pandemic shutdown, the Dalgona Coffee recipe emerged as one all you aspiring at-home baristas out there need to have in your very own back (apron) pockets. This South Korean whipped coffee drink that got its name from the Dalgona Korean sugar candy, will remind you of a frappe—but with a tasty, extra-fluffy and cost-efficient twist. It only requires 4 simple ingredients, and it's awesome hot or cold. That means you can sip on this caffeinated pick-me-up any time, any day or any season! It definitely lives up to the hype! 
What Is Dalgona Coffee?
Because of its texture and overall consistency, Dalgona coffee has many names. You'll often hear "fluffy coffee," "frothy coffee" and "whipped coffee." It's a simple recipe with 2 basic parts: milk at the bottom, and a fluffy, sweetened coffee foam on the top. Even better—it requires no special equipment (or barista skills, for that matter). And it is a good-looking drink, too! 

[Photo credit: Leigh Skomal via Unsplash] 
What Are the Dalgona Coffee Ingredients?
All you need for the foam is equal parts instant coffee, sugar and hot water—no whipping cream at all. Just add that mix to cold or hot milk. That's it! You'll sometimes see a variety of topping options, too, like cocoa, crumbled biscuits or even honey.  
Death Wish Dark Roast Instant Coffee 
The power and flavor of the drink lies in the instant coffee—not ground coffee. That's why Death Wish Dark Roast Instant Coffee is the magical element needed to create the perfect Dalgona Coffee recipe. Our dark roast instant coffee allows for a smooth, stable foam, as well as giving you the ability to control the caffeine rush you want. It's delicious—and packs a punch! What more could you ask for? 
Boiling Water 
The hotter the water the better—watch it boil! That's because hot water dissolves the sugar and coffee so much faster, and then the mixture will become foamy. 
Granulated Sugar 
Granulated sugar, in particular, will ensure the foam reaches the fluffiest texture possible. You can also use white, brown, raw or coconut sugar as a well. And if you're thinking of leaving out the sugar completely, you can do it—but skipping the sugar will mean your drink won't stay foamy for very long.  
Milk 
Any milk variety will work. Just think of it this way: If you want an extra creamy drink, go for whole milk. But you can also use almond, cashew, soy or oat milk, if that's how you roll. Choose your milk based on your personal—and dietary preferences. They all work just fine. You can warm up your milk or keep it cold right out of the fridge—even add ice cubes if you want. It's up to you!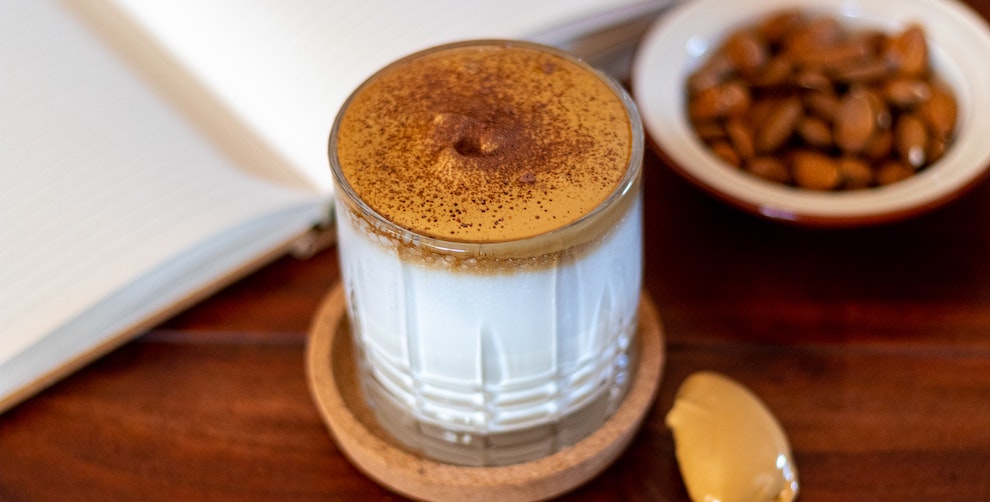 [Photo credit: Oana Cristina via Unsplash] 
Here's How To Make Dalgona Coffee
Ingredients:
For Garnish:
Death Wish Dark Roast Instant Coffee granules

 

Whipped cream

 

Chocolate Shavings

 
Directions:
Whisk together boiling water, Death Wish Dark Roast Instant Coffee and sugar with an electric mixer at medium speed as soon as you place the ingredients in the bowl. This will ensure an extra- fluffy foam. 

Whisk until the mixture is thick and forms stiff peaks, about 2-3 minutes. Scrape the bottom and sides of the bowl occasionally while whipping.

(See directions below if you don't have an electric mixer.)

Pour the milk (and vanilla extract, if desired) into a tall glass, leaving 2 inches of room on top. Spoon the Dalgona froth on top of the milk.

Garnish with a sprinkle of instant coffee granules, whipped cream or chocolate shavings, if desired.

 Stir vigorously and enjoy!
Pro Tips:
For a weekend Dalgona coffee treat (or any time the workweek is punching you in the face), beat in 1-2 teaspoons of coffee liqueur (

Frangelico, Bailey's, chocolate liqueur, Kahlua, or even bourbon are tasty additions)

into the coffee mixture. 

 

For iced whipped coffee, use cold milk or even add 1-3 ice cubes to the milk.

 

For hot whipped coffee, heat milk slightly (but not to boiling, otherwise the whipped mixture will dissolve immediately).

 

The coffee foam stays thick and fluffy for quite a while. You can even store the drink in an airtight container and refrigerate it up to 3 days! Or—make a large batch and freeze to make ice cream.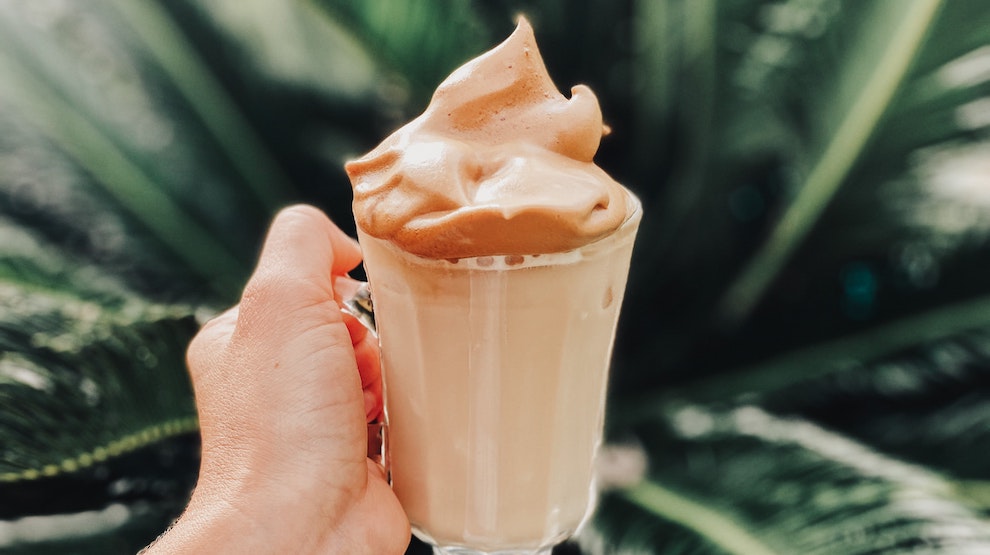 [Photo credit: Chelsea Audibert via Unsplash] 
Per Serving: 
Calories: 277 
Protein: 9 grams 
Carbohydrates: 43 grams 
Fat: 8 grams 
Cholesterol: 24 milligrams 
Sodium: 109 milligrams 
*Nutritional information is only an estimate. 
How Can I Make Dalgona Coffee Without a Standard Electric Mixer?
Here are a few other options that all work well to make Dalgona coffee. However, it's definitely going to be much easier to make this coffee drink with an electric mixer—not going to lie. For one, you can also grab a hand whisk. If you opt for the hand whisk, just know that a bicep and tricep workout will be in order, as well as some patience and determination to reach that state of caffeinated bliss, but it's totally possible. You'll just have to hand whisk for 8 to 20 minutes. Whisk in a zigzag motion—back and forth and side to side, instead of rotating in circles. The result will be worth it! Milk frothers, immersion blenders and stand mixers are great options that will save you from some potential upper-body aches, too.  
The Dalgona Coffee recipe is fast and easy—and guarantees the boost of caffeine you crave while making you feel like you're at the fancy place around the corner. So, when you're looking for a creative and tasty option to your coffee routine, get to whisking! Dalgona coffee just might be one of your new favs. 
Related Recipes:
 

 

Vietnamese Egg Instant Coffee Recipe

Frothy Whipped Coffee White Russian

Coffee-Flavored Double Chocolate Chip Cookies

Recipe: "Instant Death" Coffee Cookies

By: Lisa Frania
Title: Dalgona Coffee Recipe
Sourced From: www.deathwishcoffee.com/blogs/news/dalgona-coffee-recipe-1
Published Date: Wed, 26 Oct 2022 21:00:04 +0000