Overview of the Product
Sowtech espresso machine is suitable for those looking for the most affordable way to enjoy coffee shop-style lattes, cappuccinos, and espressos from the comfort of their home. It has a compact design to fit into small spaces. And is suitable for use in small kitchens, offices, single apartments. And you can take it with you when camping in your caravan, too. 
This espresso maker is steam-powered and comes in a stainless steel and plastic package that makes it light in weight and stylish. It features a washable and removable drip catcher for easy cleaning. And a frothing arm for making milk-based drinks like cappuccinos and lattes.
Not just that, this Sowtech coffee maker is a semi-automatic machine equipped with a 0.24 litres water tank and a pressure of 3.5 bars. It can brew up to 4 shots of espresso. It has a single switch knob with an indicator light for performing functions such as coffee/steam selection and an on/off switches.
Specifications
| | |
| --- | --- |
| Dimensions | 14.17 x 10.71 x 7.87 inches  |
| Weight | 5.1 lbs or 2.31 kilograms |
| Water Reservoir  | 0.24 Litres |
| Pressure | 3.5 bar |
| Type | Semi-automatic machine |
Things to consider before buying an Espresso Machine
When choosing an espresso maker to buy, individuals often lookout for different features depending on their budget, preference, and intended use.
However, with the numerous brands of espresso machines in the market, we have provided you with some features and factors to consider to make the right buying decision. 
Type of Espresso Machine
There are four types of espresso machines available: manual lever espresso makers, semi-automatic, automatic, and super-automatic espresso makers. These machines differ in terms of automation, starting from manual to super-automatic. You will need to decide on the type of espresso maker you want. 
While the manual espresso machines give you complete control of the entire brewing process. The super-automatic machines handle the whole brewing process.
Also, manual espresso makers are cheaper. While super-automatic espresso makers are more expensive and suitable for office or commercial purposes.
Ease of Use
If convenience means a lot to you, you should consider a product that is easy to use and has programmable settings. Automatic, Semi-automatic, and Super-automatic espresso machines are easier to use compared to manual espresso makers. 
You should consider buying a product with clearly marked buttons or a control knob for performing various functions during the brewing process. Such as adjusting the coffee's strength, temperature, the quantity of water, intelligent features, and auto-on/off features.
Cleaning and Maintenance
Irrespective of the espresso machine's cost, size, and quality, the importance of cleaning and maintenance can not be overemphasized. Lack of regular cleaning and maintenance of your equipment will reduce its lifespan.
It should also come with removable and washable parts for quick cleaning and dishwasher-safe compatibility.
Some products feature an automatic self-cleaning feature, drip tray, and descaling features for easier cleaning.
Frothing Capability
Most espresso makers can brew milk-based drinks like macchiatos, cappuccinos, and lattes. 
The difference is that some espresso makers come with built-in milk containers and frothing systems. Others – have a steam wand that you use to froth the milk.
The former has the advantage of not needing to froth the milk separately. The coffee maker does that on its own and adds the milk to your coffee automatically.
It is good if you don't want any manual labour for yourself – just grab your ready cup of coffee. But it also means you will need to take more time with daily maintenance. You will need to clean the milk system at the end of each day to avoid the milk going bad. And make sure you put the milk carafe back in the fridge once you're done (or at the end of the day).
The latter – the steam wand, only requires a quick wipe with a dry towel and running some water through the sprout, which the machine will do automatically once you're finished frothing.
I would go for the machine with the steam wand instead of a built-in milk and frothing system. It is cheaper, you are more in control of how you like your milk frother, and it's just less work.
The good news is that even cheaper products like the Sowtech espresso machine come with frothing capability. In this case – it's the steam wand. 
Features and Benefits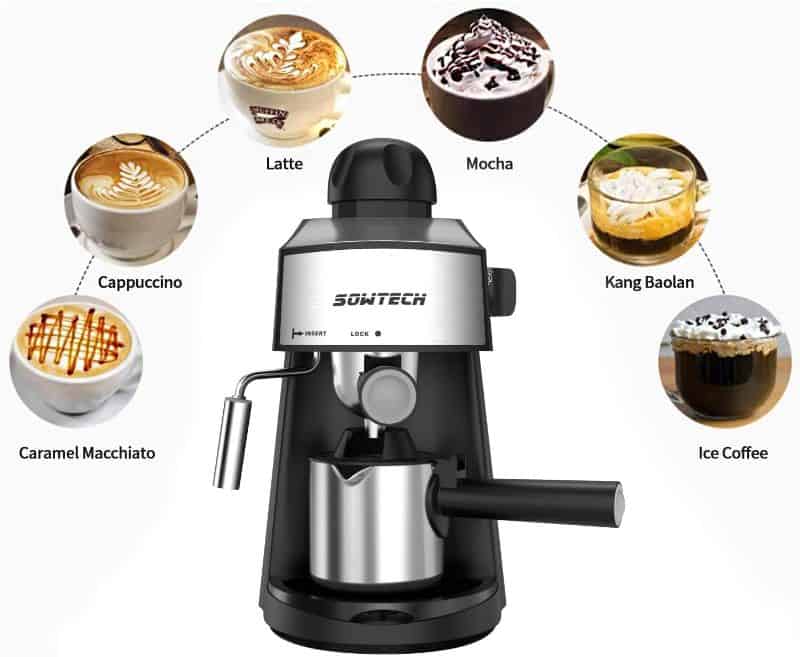 If you consider buying a Sowtech coffee maker, here are some features and benefits of this product.
Design and Construction
This product is a steam-powered espresso machine with a stylish and durable plastic and stainless steel package.
That said, this 4 cup espresso maker is compact and light in weight. Which makes storage easy and suitable for use in small spaces, tabletops, offices, and travels.
It features an easy-to-use control knob with indicator lights located at the front of the machine. With it, you can select various operations such as coffee/steam selector, on/off, milk foam making, coffee brewing, and brewing pause.
There's a metal carafe suitable for both brewing and serving. You will also love its large filter that allows you to brew up to 4 espresso cups at once.
Some earlier versions of this coffee maker had a glass carafe. Sowtech recalled those units, however, as there were complaints from the users about these carafes leaking and breaking easily. Make sure you buy the coffee maker with a metal carafe.
Consistent Temperature
Consistent temperature plays a crucial role in determining the quality of the espresso. If you brew espresso at a lower temperature, it is likely to have a sour taste.
On the other hand, if you brew espresso at a higher temperature, it might have a bitter taste. 
One of the advantages of this product is that it has a consistent temperature. It heats up to a little below the boiling temperature of the water and maintains it there.
It doesn't go cold when not in use and or overheats when in use.
This Sowtech coffee maker can maintain the coffee temperature at about 176F.
Steam Pressure
The product comes with a pressure of 3.5 Bars. Although it may seem a bit low, it is fair for the price compared to other steam espresso machines.
Not just that, the pressure is also consistent enough to pull between 1 to 4 espresso shots at the same time. 
The product builds up pressure and heats up in 90 seconds, after which it is ready for brewing. Additionally, it takes about 45 seconds to steam your milk when in steam mode.
Drip Tray
This unit comes with a removable and washable drip tray that collects all coffee drips and spills, keeping your brewing space clean.
That said, this feature makes the espresso maker suitable for use in offices, homes, and kitchens, as well as time spent on clean-ups later.
Easy to Use
If you wouldn't want to buy a product that will require you to spend time learning how to operate it, then this Sowtech machine is just what you need.
It features a single control knob that allows you to carry out various operations such as temperature control, steam selection, coffee selection, milk frothing and serve as an on/off switch. 
It has an easy-pour glass cup marked to serve the right amount all the time. All you need to do is add your coffee grounds into the filter, fill the water carafe and then turn the machine on.
Interestingly, both the filter and water carafe come with fill lines to help you accurately measure the right amount.
Warranty
Although most espresso makers come with a warranty, it differs from one product to the other.
Amazingly, this Sowtech espresso machine offers a lifetime warranty which you don't get to find easily, especially for products in this price range. 
The warranty not only speaks about the product's durability, but it also means you can sleep without fear of your machine getting damaged easily or fear of spending so much on repairs.
Built-in Milk Frother
One of the features we love is the frothing arm of this unit that allows you to transform your espresso drink into creamy drinks like latte and cappuccino. The milk frother comes with an accurate water level scale that ensures only the right amount of water is used to froth the milk.
Drink Options
I also loved the fact that this product does not only make espresso drinks. You can also make other drinks like Macchiato, Latte, Float Coffee, Cappuccino, and Espresso, which you are not likely to get from other espresso makers of the same price range. 
Accessories
When you purchase this product, you do not only get an espresso machine. The unit comes with several accessories. Such as a filter, stainless steel cup, measuring spoon that also serves as a tamper, Funnel, and a user manual. 
Cost
If you are working with a tight budget or looking for an affordable espresso maker without compromising quality, you should consider this 4 cup espresso maker. 
Conclusion
Sowtech espresso machine is ideal for anyone looking for an affordable way to enjoy espresso and other milk-based drinks without compromising quality.

It comes with a pressure of 3.5 bars that can brew up to 4 espresso shots and a single control knob for easy usage. Even more, it comes with a frothing arm for making latte and cappuccino, while its lifetime warranty says a lot about its durability. 

If you are looking for a product that's a perfect blend of affordability and functionality, kindly click here to buy the Sowtech Espresso Machine.

The post Sowtech Espresso Machine Review 2021 appeared first on Coffee for us.

By: Olivier
Title: Sowtech Espresso Machine Review 2021
Sourced From: coffeforus.com/sowtech-espresso-machine/
Published Date: Fri, 10 Sep 2021 18:39:41 +0000