A new espresso machine is a major purchase. It can be tough to know what the best choice is for you. This article will help you compare and contrast Breville's different espresso machines so that you can make an informed decision about which one to buy. We'll talk about the features of each machine, their pros, and cons, as well as some common questions people have when buying coffee or espresso makers.
We've also got a list of helpful resources on our blog that are worth checking out before making your purchase! Don't forget to check out our What You Need to Know Before You Buy section if you want an honest-to-goodness gist of the Breville machine you're eyeing for.
Overview
People have varying coffee brewing preferences and habits based on their budget. A Breville espresso machine could be your best buy if you go by quality-to-value ratio, which is the number one factor to consider when you're buying a coffee machine.
No matter what it is that you're looking for, from basic features up to something more advanced that has an ascent grinder with conical burr grinders and flavor capture technology, we've got an espresso maker that's perfect for you.
We want everyone who buys a Breville Coffee Machine to have this same great experience. Our Breville espresso machine reviews center around helping people fall in love with good coffee without being intimidated by the technicalities of making a cup of joe.
About Breville
Breville is a global kitchen appliance brand that has been empowering people for over 80 years to do things more impressively or easily in their kitchens. Founded back in 1932, Breville has grown into the beloved household name known worldwide for boosting creativity through thoughtful design and inspiring inventiveness with its iconic lineup of smart home appliances.
Overview of Breville Espresso Machines
The espresso machines that Breville offers the answer to every whims and wish of a spoiled coffee lover. Whether you're looking for a party-pleasing espresso maker or a kitchen space-savvy, Breville can surely offer you any of its finest machines.
These machines won't get intimidated with other appliances you have in the kitchen as Breville espresso machine designs are timeless with their brushed stainless steel casing. Both beginner and expert coffee drinkers will love the convenience of operating it because Breville has espresso machines that can be programmed to make your favorite coffee drinks. 
It allows you to enjoy your coffee journey with its semi-automatic, fully automatic, and superautomatic espresso machines functionalities. It's all up to you if you want coffee in 3 seconds or would rather go with the laborious work of making delicious espresso.
Breville Oracle Touch
Breville Oracle Touch provides convenience for brewing the coffee drinks your palate most desires. It's a feature-packed, fully automatic espresso machine that prepares your favorite beverages in three easy touch screen motions – swipe, select, and tap.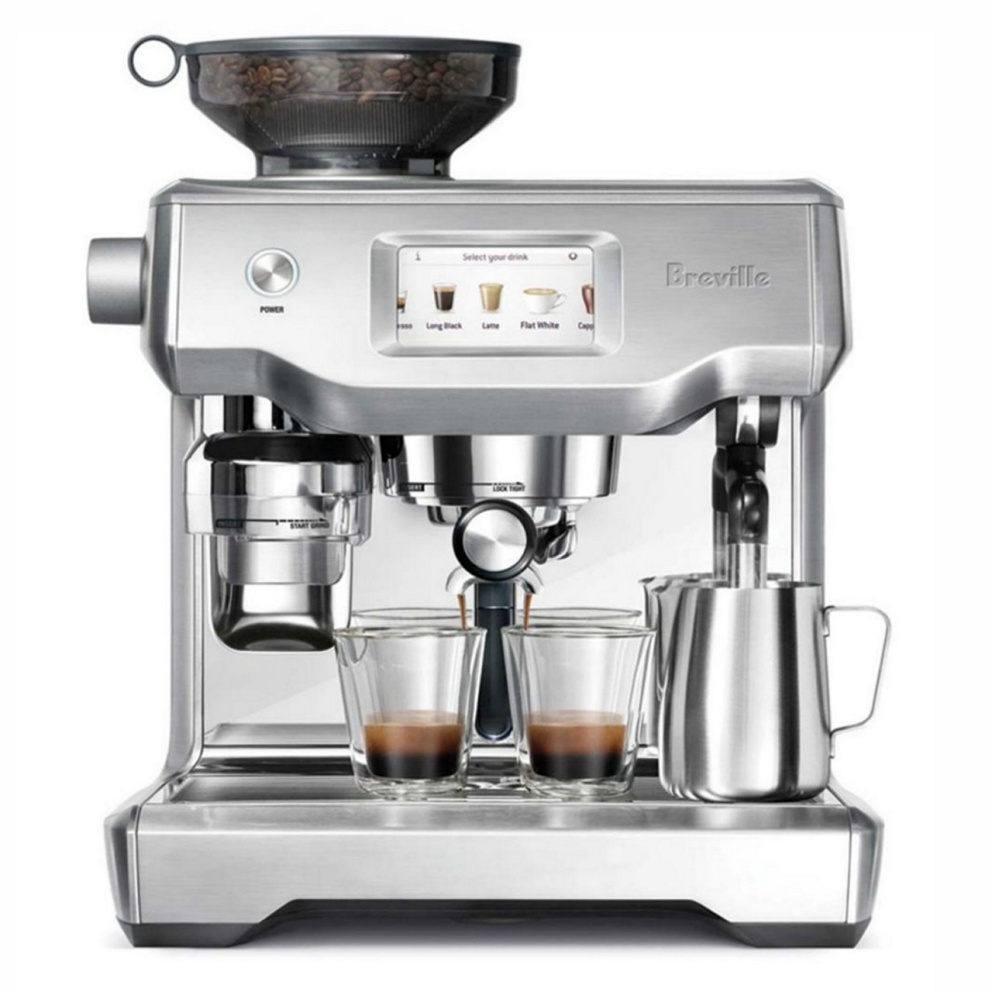 Features & Benefits
The Good
The Oracle Touch is notable for its dual boilers that allow simultaneous brewing and steaming. It has a built-in tamper for a consistent dose of coffee grounds for a precise extraction once the machine starts its pre-infusion. Best of all, it's easy to clean and maintain.
The Bad
It cannot be denied that this espresso machine is expensive, is one of the high-end espresso machines in the market today. Another disadvantage of this machine is that its water filter is irreplaceable. So it requires great care if you want to use it for more years. Lastly, since it's a fully automatic espresso machine, the software bugs affect the coffee drinks' customization.
The Bottom Line
You'll definitely love Oracle Touch if you like everything about making coffee to be automated. Yet, it also has some cumbersome points that can make you think twice about this machine like its price tag, irreplaceable parts, and software bugs which could also affect your coffee experience with this machine.
Overall Rating: 4.5 / 5
What You Should Know Before You Buy
If you'll purchase Oracle Touch, you must know that:
Read our full Breville Oracle Touch for more information.
Breville Oracle
The Oracle is a revolutionary espresso machine that takes all the guesswork out of making specialty coffee. The Oracle grinds, doses, stamps, and textures milk automatically – so you can focus on what really matters: enjoying your perfect cup of coffee!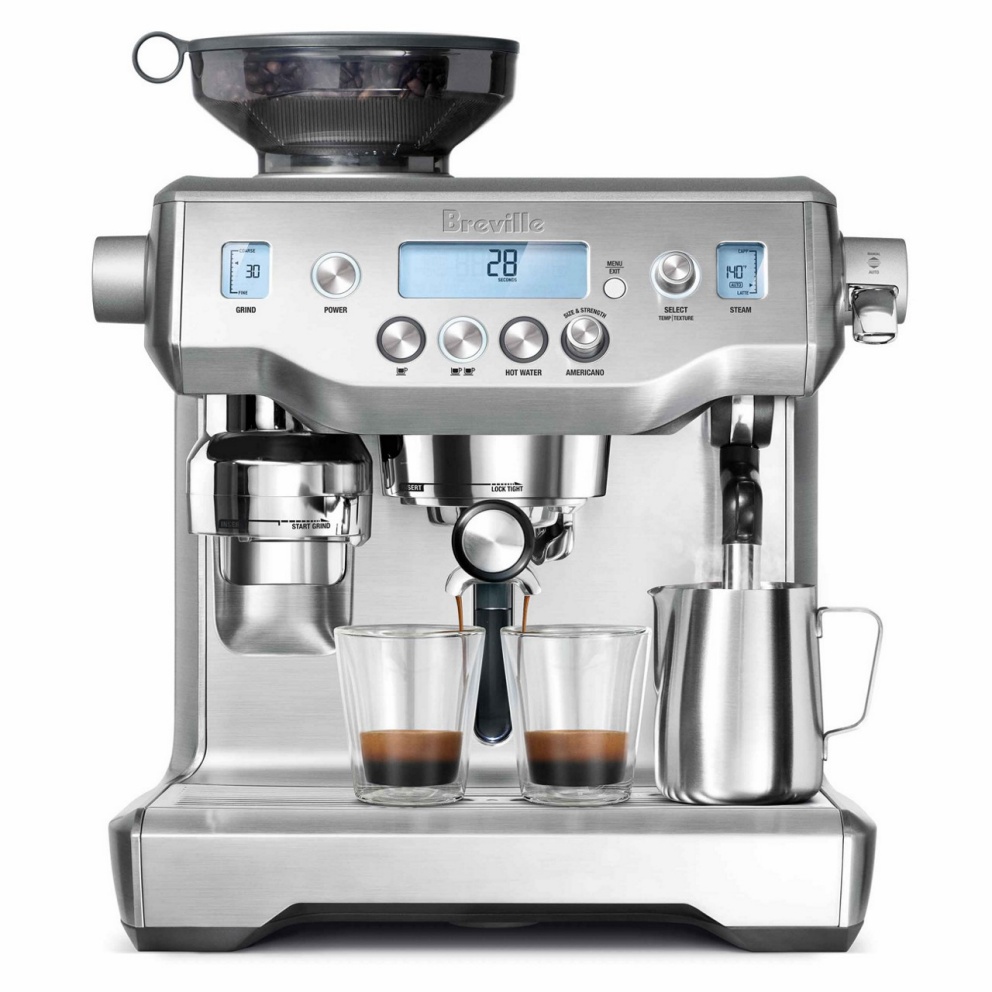 Features & Benefits
The Good
The Breville Oracle automates two parts of making espresso drinks – grinding and texturing milk – which lets anyone make amazing specialty coffees at home easily, quickly, and without fail. It has dual boilers that allow you to brew coffee simultaneously. It uses a digital pressure control (PID) enabling you to brew espresso at the optimal temperature. 
The Bad
Aside from its high price tag, the Breville Oracle has no available replacement parts for water filters. Also, if you'd like an espresso machine that prepares espresso drinks pronto, this fully automatic machine isn't an ideal buy as it takes much longer to warm up compared to other super-automatic espresso makers.
The Bottom Line
The Oracle is a revolutionary espresso machine that makes it easy to make the perfect espresso every time. It grinds beans automatically, tamps them perfectly, extracts coffee with precision, and textures milk for you all in under one minute. You'll have the best-tasting latte or cappuccino without any of the hassles.
Overall Rating: 4.5 / 5
What You Should Know Before You Buy
If you're leaning towards a fully automatic espresso machine to prepare your coffee every morning, you should know that the Oracle:
Read our full Breville Oracle for more information.
Breville Dual Boiler
The Breville Dual Boiler combines everything you love about your favorite cafe into one powerful machine that fits right on your countertop. The online forums and feedback match the general consensus: this is a mighty fine machine for making third-wave espresso. All this technology means excellent tasting espresso from anywhere in your house!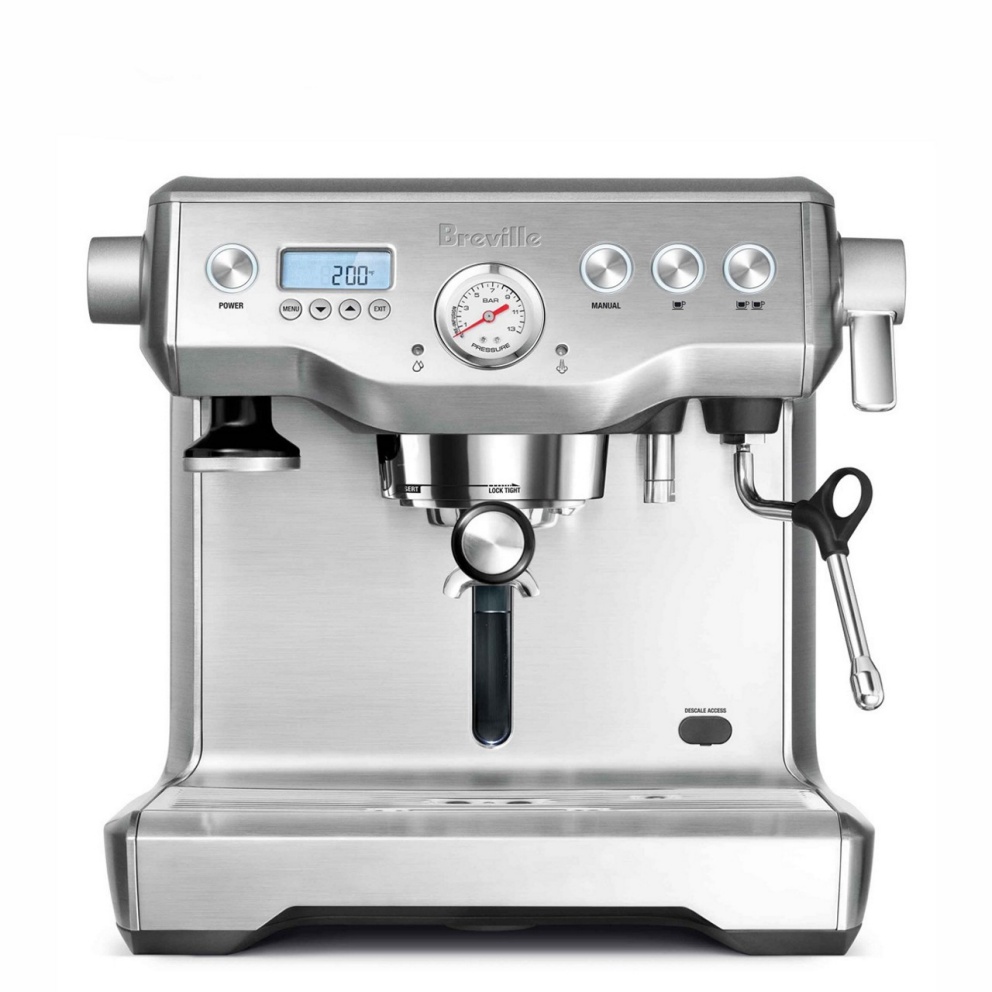 Features & Benefits
The Good
The Breville Dual Boiler espresso machine is a semi-automatic machine that allows you to have complete control in preparing your espresso. The device has two PID (Proportional Integral Derivative) control systems that monitor water temperature to ensure consistency and quality from shot to shot and an integrated grinder with doser for freshly ground beans. You can even adjust brew pressure on the Breville Dual Boiler!
The Bad
However, the Breville Dual Boiler espresso maker requires you to grind your coffee beans, tamp the grounds and pull a shot manually for excellent tasting espresso. If you're used to using fully automatic machines that only need water or milk filled up to make delicious drinks, then this might not be what you are looking for.
The Bottom Line
The Breville Dual Boiler espresso maker can be tagged as expensive by inexperienced users of the commercialized features of the Breville BES920XL. It's challenging to set up, so it's not recommended to newbie users of this espresso machine.
Yet, espresso lovers who are looking to improve their barista skills can maximize the full potential of this espresso machine thanks to the following features that are a rare find: programmable pre-infusion,  stable extraction temperature, limiting extraction pressure, and concurrent extraction-steam processes.
Overall Rating: 4.6 / 5
What You Should Know Before You Buy
Before you swipe your card to take this mighty espresso machine home, you ought to know that Breville Dual Boiler is:
Read our full Breville Dual Boiler for more information.
Breville Barista Touch
The Breville Barista Touch allows you to make café-quality lattes and cappuccinos at home with ease. It has an intuitive touch screen display that lets you choose from a menu of pre-programmed specialty coffees or create your custom beverage to suit your taste buds using the built-in grinder for fresh ground beans on demand. And since it brews in under two minutes, there's no reason not to enjoy a great cup of coffee every day!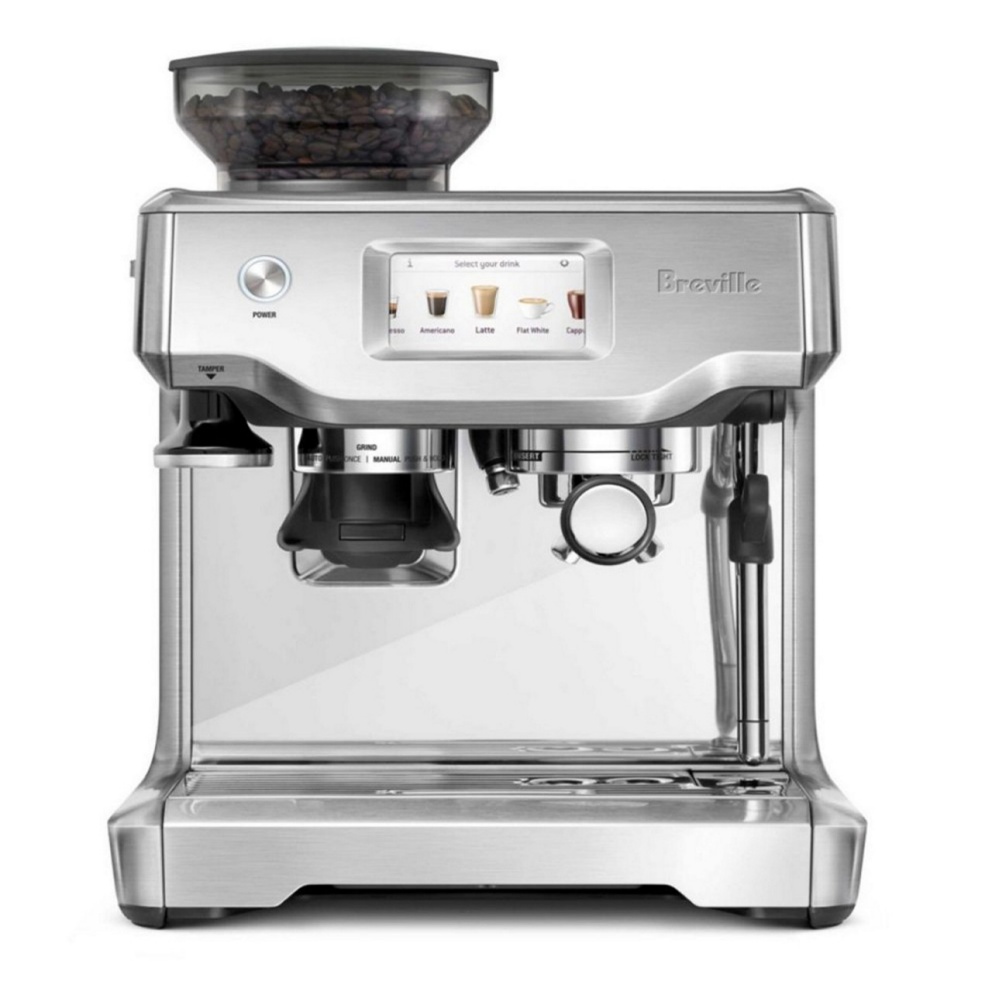 Features & Benefits
The Good
The Barista Touch has four features of an espresso machine that every coffee lover will surely love. It has an intuitive touch screen display, personalized coffee settings, an automatic coffee milk frothing, and a hands-free operation. It's like setting up a cafe in your kitchen that can make you coffee at the touch of a button!
Other features of this espresso machine worth mentioning are its built-in, conical burr grinder that permits you to grind coffee beans in your desired size and amount—also, the fast 3-second heat-up allows you to prepare coffee on demand.
The Bad
The thing that's a turn-off about this espresso machine is that it's a bit expensive compared to other espresso maker models that resemble its features. It also lacks preheating options for mugs to ensure the longevity of the temperature of your coffee. Lastly, cleaning is a challenge because the coffee puck often sticks to the grouphead rather than staying in the portafilter.
The Bottom Line
Overall, the Barista Touch is easy to use and can prepare coffee as quickly as 3-seconds. In addition, its features and functionalities are simple to operate, which makes it a newbie-friendly machine. Best of all, it allows you to experiment on your brew and beans with its settings that allow customization. However, it's worth remembering that above all these features, it also comes with a price.
Overall Rating: 4.6 / 5
What You Should Know Before You Buy
The Barista Touch will definitely charm you with its practical features like:
Read our full Breville Barista Touch for more information.
Breville Barista Pro
This coffee maker is designed to satisfy beginners and experienced baristas alike. It has easy-to-follow operating instructions, a user-friendly control panel, innovative features that mimic how the best of them prepare their delectable cups of joe as well as a built-in smart grinder for making your brew just right every time.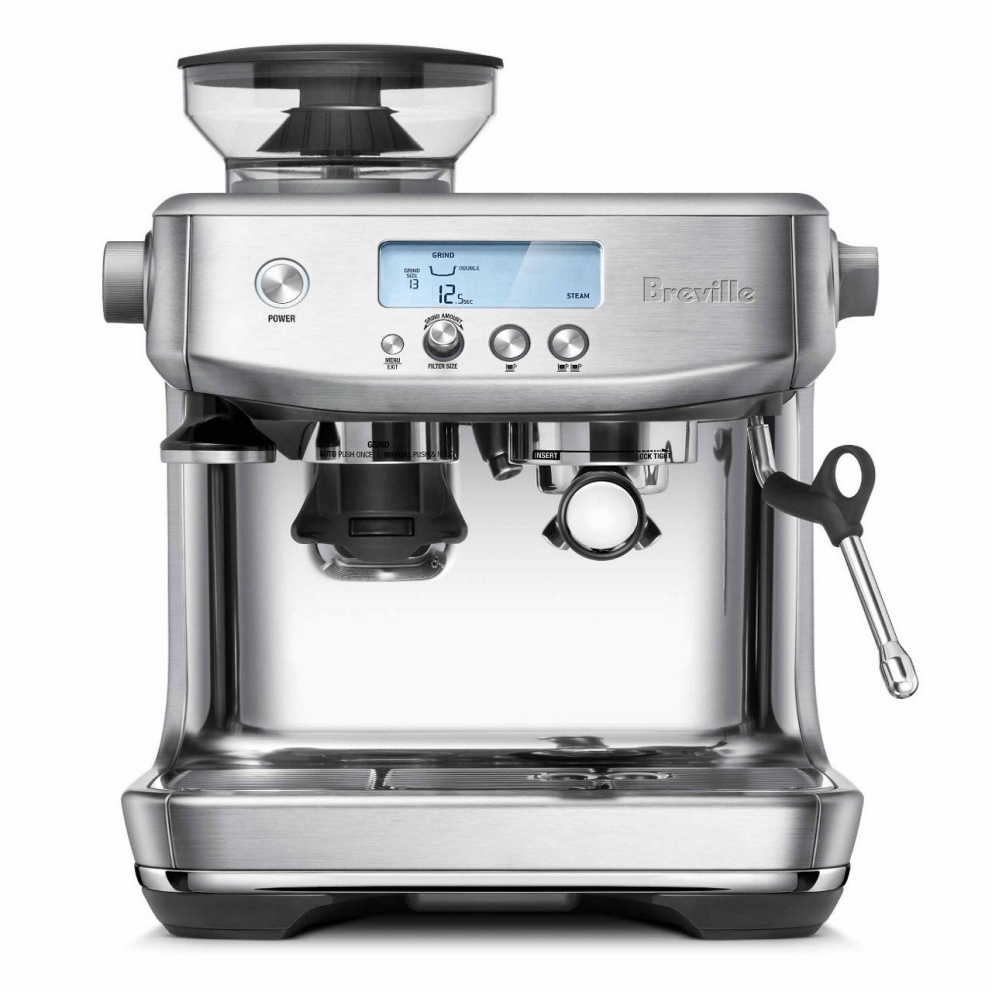 Features & Benefits
The Good
The Breville Barista Pro features an integrated smart grinder, automated water pressure, the use of the Innovative Thermojet heating system in 3 seconds, digital pressure control (PID), and a steam wand. It's an espresso machine that's fully loaded with great functions.
The Bad
The main reported issue with the Barista Pro is it can be messy with the shared drip tray underneath the grinder. Be prepared to do some regular cleaning.
The Bottom Line
We love the Barista Pro for its versatility and craftsmanship. The annoyance of cleaning up after it is a minor hassle in reality. The machine brews excellent espresso and is stacked with all the latest technology like the 3-second heat up. The price point is in line with other similar espresso machines. If you're wanting to upgrade, consider The Breville Barista Touch as it includes a touch-screen.
Overall Rating: 4.5 / 5
What You Should Know Before You Buy
Read our full Breville Barista Pro for more information.
Breville Barista Express
The Breville Barista Express is an all-in-one espresso maker that gives you complete control over your coffee experience. It makes it easy for anyone to brew excellent specialty coffees at home. As a matter of fact, you can easily create latte art just like a barista and enjoy smooth microfoam milk texturing without any special skills or training whatsoever!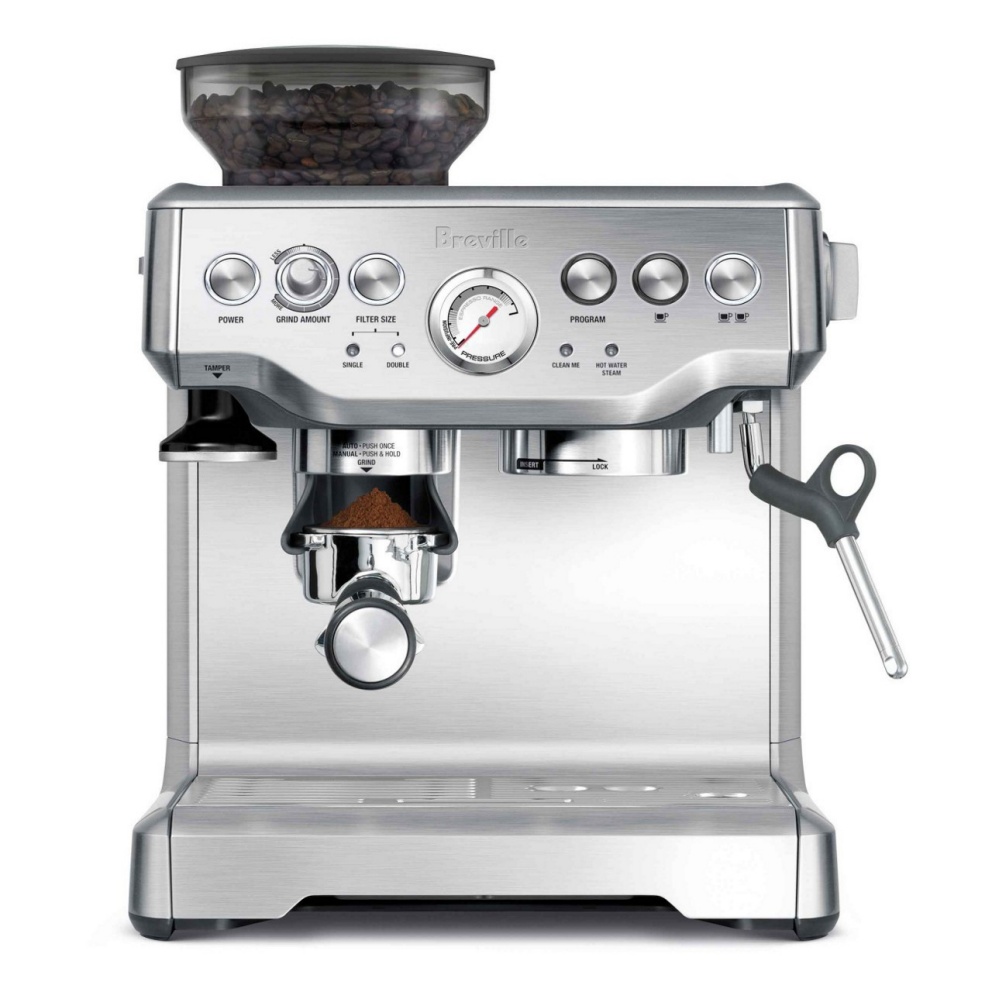 Features & Benefits
The Good
The Breville Barista Express espresso machine is a steal. It's easy to use, keeps your coffee grinding and brewing hassle-free, plus it has an attractive stainless steel design that will look great in any kitchen!
The Bad
The Breville Barista Express takes time and effort to operate, but it produces a quality cup of coffee. You can find it in a higher price tag compared to other semi-automatic coffee machines in the market. Another drawback not to forget is that the machine will require a
The Bottom Line
The Breville Barista Express is a sleek, user-friendly espresso maker that produces better coffee than more expensive machines. It's comparatively easy to use and keep clean, plus it has an attractive stainless steel design. The device also sports a built-in burr grinder for hassle-free grinding of beans!
While the Barista Express does require some effort compared with fancy super-automatic models, its outstanding value makes up for this difference-making excellent tasting espressos at affordable prices vs much more expensive models.
Overall Rating: 4.5 / 5
What You Should Know Before You Buy
Read our full Breville Barista Express for more information.
Breville Bambino
The Bambino is a pint-sized espresso machine designed with your budget in mind. It has all the bells and whistles that a practicing barista or a simple homebrewer can ask for.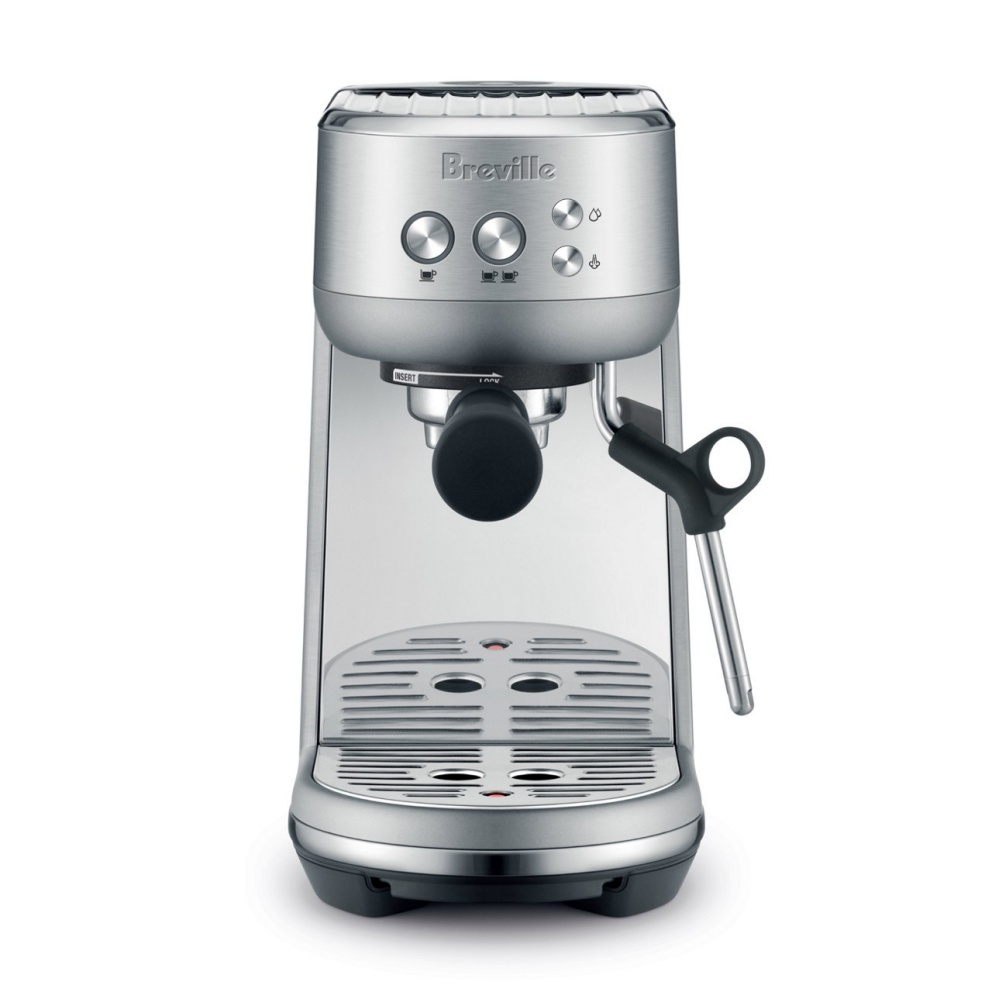 Features & Benefits
The Good
This espresso machine is simple to use with its not-so-technical control panel. The brewing process begins with the 2-button control scheme that guarantees fast heat-up in seconds. Milk texturing is a no-brainer with its one-hole steam wand that allows consistent milk texturing. Best of all, you can take home the Bambino fully equipped with hassle-free pressurized brew baskets that work well with pre-ground coffee, too!
The Bad
If you like preparing coffee the intuitive way, this machine isn't for you. It doesn't steam milk automatically, and you won't be able to adjust the water temperature. Plus, its aesthetic design isn't as impressive as other espresso machines in its price range.
The Bottom Line
The Breville Bambino is a pint-sized espresso machine meant for coffee lovers and baristas for its essential features. It's not your forever-type espresso machine, yet it allows you to practice preparing espresso and texturing milk. It's a recommended coffee maker for those who want to be adventurous with their coffee because of its semi-automatic espresso machine functionalities.
Overall Rating: 4 / 5
What You Should Know Before You Buy
Read our full Breville Bambino for more information.
Breville Bambino Plus
Breville Bambino Plus is a single-steel boiler espresso machine that can prepare third-wave specialty coffee in three seconds. It fits cozily in any small kitchen space with its sleek measurement of 12.6 high and 7.7 wide. Despite its small build, it comes with practical features that enable you to pull single and double espresso shots.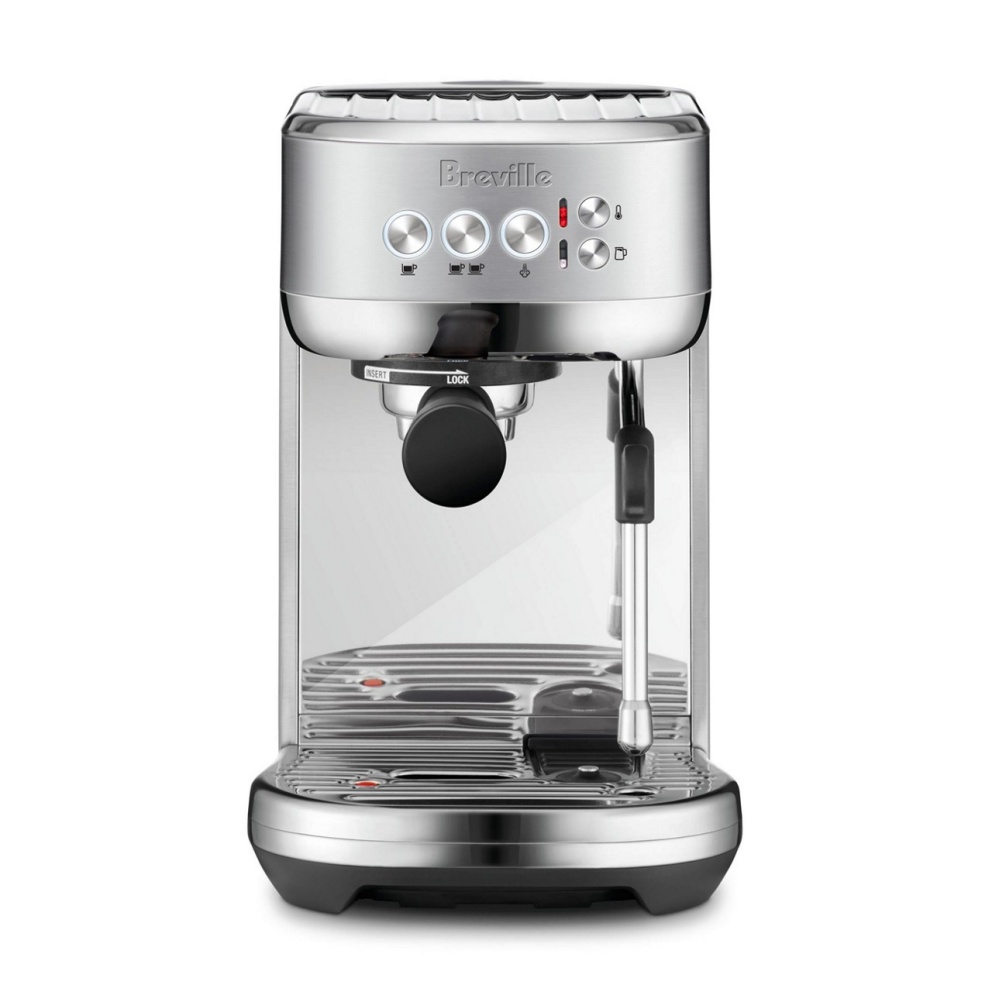 Features & Benefits
The Good
Breville's Bambino Plus espresso machine is perfect for entry-level and moderately skilled coffee enthusiasts. It has a sleek, compact design that makes it ideal for small kitchen spaces! The powerful device can produce rich shots of delicious espresso with the push of just one button – as well as steaming perfectly textured milk on demand.
The Bad
The Bambino Plus can heat up fast in 3-seconds, yet its pre-programmed setting for double shot espresso cuts off the extraction quickly. Such shortcuts often yield a duller or a "play-safe" espresso.
Since Breville's Bambino Plus is a compact size coffee maker, you have to hold it in place while locking (or unlocking) the portafilter. Compared to other Breville models with hot water dispensers, the Bambino Plus doesn't have any.
The Bottom Line
The Bambino Plus is an excellent machine to explore the art of making cafe-quality espresso if you're new to espresso-making. It's tiny (a size comparable to a shoebox) and effortless to use. Its three-second heat-up rate is what makes it a good machine for any coffee lover that wants an espresso on the go. 
Overall Rating: 4.2 / 5
What You Should Know Before You Buy
Read our full Breville Barista Touch for more information.
Breville Infuser
The Breville Infuser is a semi-automatic espresso machine for coffee drinkers who value quality-tasting coffee over quantity. It's a coffee machine that gives complete freedom in customizing the volumetric control to prepare coffee. Likewise, its pre-infusion utilizes the correct pressure, allowing you to brew a delicious cup of coffee consistently.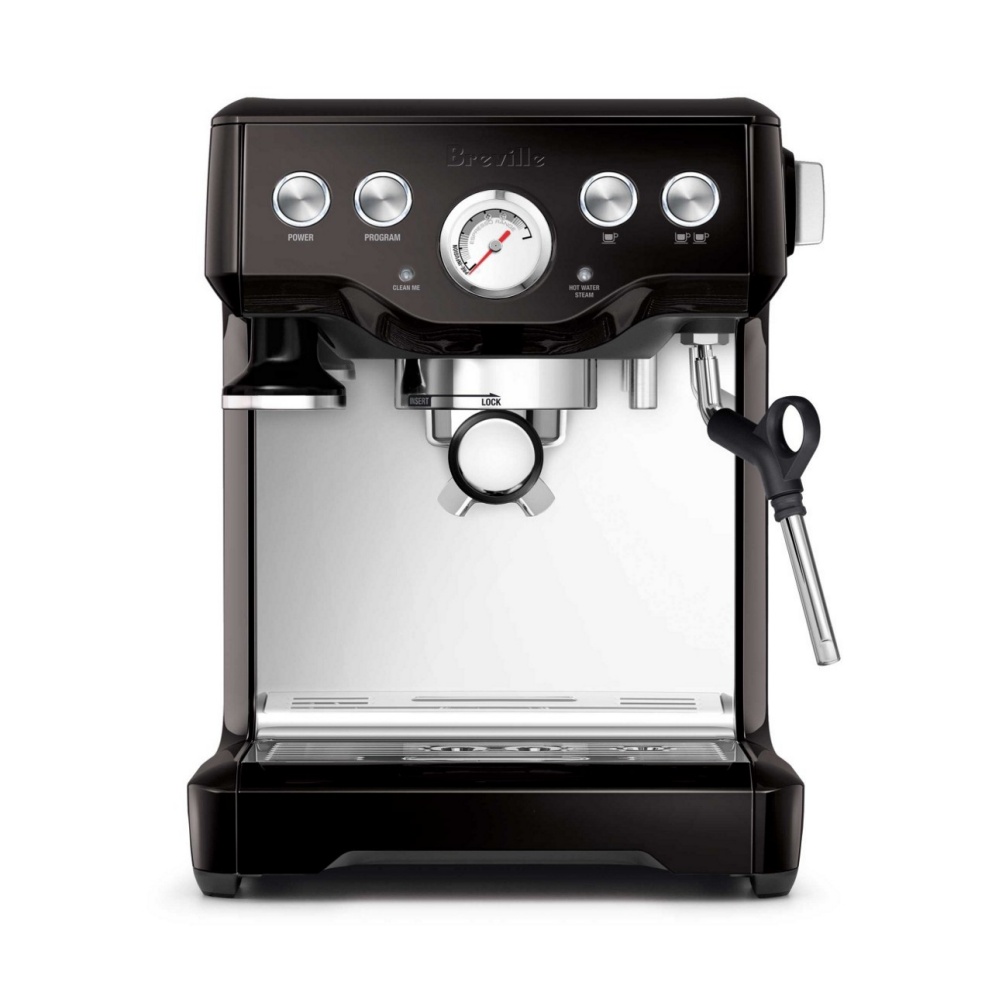 Features & Benefits
The Good
The Breville Infuser highlights volume control and accurate pressurized infusion. It also features manual micro-foam milk texturing, flexible shot controls, and maintenance indicators.
If you love curating your cuppa and experimenting with latte art you can manually override the settings from the shot selection to dosing. Such essential features allow you to make great coffee with ease without going awry from preparing a palatable third-wave coffee.
The Bad
The Infuser requires great patience because figuring out the dosing can be quite a challenge. It's a rare feature to find in espresso machines, but still, trial and error are necessary to achieve that perfect cup you're aiming for. Other than this, the device should have a definitive guide for the cleaning and descaling process of the espresso machine to ensure that the machine will work for more years.
The Bottom Line
Though Breville has promising features that make it a candidate for a perfect coffee maker, it still has some room for improvement, such as cleaning and maintenance. Descaling is an essential feature that should be given much attention because it can affect the quality of water for coffee brewing. Yet, it's one of the maintenance details that Breville missed out on by not providing a definitive guide about it.
Overall Rating: 4.1 / 5
What You Should Know Before You Buy
Read our full Breville Infuser for more information.
Breville Duo Temp Pro
The Breville Duo Temp Pro is a revolutionary espresso machine that combines the best of modern technology with aesthetics. It features advanced thermocoil and PID for perfect temperatures while using pre-infusion to soak coffee grounds before brewing to create heavenly flavors without bitterness or acidity.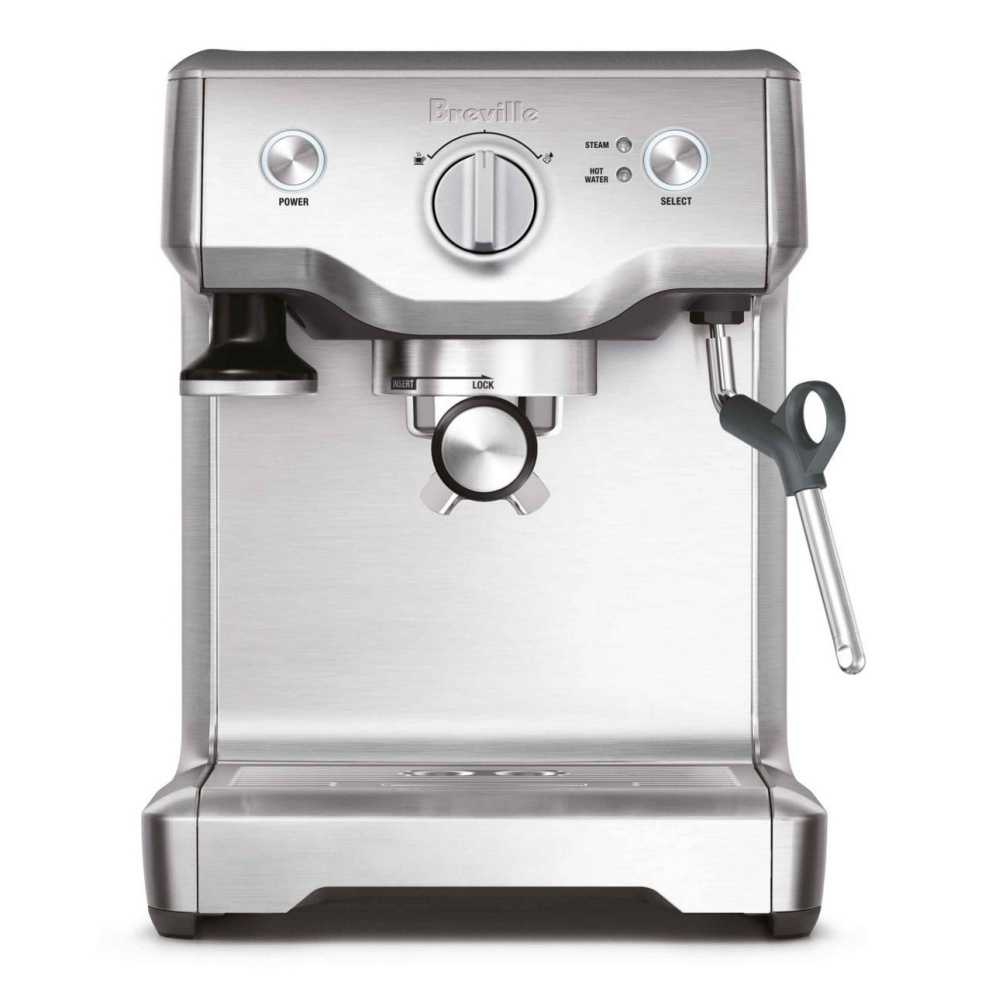 Features & Benefits
The Good
This coffee maker is a good buy if you love coffee with rich, flavorful, balanced espresso. Its advanced pre-infusion technology, perfect brewing temperature, the complete control and flexibility of this machine to brew coffee are worth every penny. Aside from the fact that it can prepare various coffee drinks in different sizes, its micro-foam technology will make you love latte drinks more.
The Bad
The Breville Duo Temp Pro also has many downsides. Apart from the good features mentioned above, this machine also comes with a hefty price tag. Unlike other Breville espresso machines with built-in features, this model doesn't have an integrated burr grinder. And just like any top-of-the-line espresso machine, this model requires high maintenance, from cleaning to replacing broken parts.
The Bottom Line
There's no perfect Breville espresso machine, but this model has a tremendous price-to-value ratio which offsets its high cost. It's a semi-automatic coffee machine worth using if you want complete control and flexibility in the brewing process.
Its features might be insufficient for an experienced user, but it's a great startup espresso machine for those starting their coffee journey because it has a steep learning curve. The 1600 watts is a bonus compared to competitors along with the maintenance indicators.
If you're wanting an everyday espresso machine that can also make lattes or milk-based drinks, this is an excellent choice from a reputable and well-known brand. And if you're looking for a "forever" espresso machine, the search is over with Breville Duo Temp Pro.
Overall Rating: 4.5 / 5
What You Should Know Before You Buy
Read our full Breville Dual Temp Pro for more information.
FAQ
Which Breville espresso machine is the best?
The Barista Express strikes an almost ideal balance between features and cost. It has a 15 bar pump pressure, it's got all the basics like a dual frother, steam nozzle, removable water tank, and drip tray, just enough buttons to override your espresso of choice with pre-set settings like lungo and cappuccino but not too many – which is just perfect for someone who dabbles in those drinks every once in a while.
Are Breville espresso machines worth it?
Yes. Numerous independent sources have ranked Breville as the best coffee maker on the market for at-home use. It's rated higher than 10 times as often as any other model for good reason, and it's cheaper than many competitors who charge a premium price. All Breville machines are excellent choices; you can't go wrong with any of them if you're in the market to get a coffee maker that will deliver consistent results day in and day out.
Which Breville makes coffee and espresso?
Breville can prepare both regular coffee and espresso drinks according to your preferences. You can pre-programmed the drinks and use the steam wand to texture the milk. However, the number of drinks that you can prepare simultaneously depends on the Breville machine because some models can't brew two drinks at the same time like the Bambino Plus and Barista Express. Yet, its fast heat-up rate compensates for this feature.
What is the best espresso machine for the money?
The Barista Pro is considered the best espresso machine for the money when compared to other Breville models. It's highly recommended for both beginners and expert coffee lovers. It's thoughtfully designed, affordable, and has the features necessary to create high-quality home coffee drinks. 

Likewise, it has easy-to-follow operating instructions. It's easy to operate with its user-friendly control panel. Plus, it has a smart built-in grinder with settings that allows you to grind your own beans to create a decent espresso. 
In Summary
Breville is one of the top of the line espresso machine brands in the market. Each time they release a new model, it has to be better than the previous models they had introduced. Surely, it would be difficult to choose which of the Breville machines deserves a place on your kitchen countertop.

Yet, the best choice always depends on what machine can satisfy your coffee cravings, your budget, and your curiosity to learn and master the art of making a good cup of coffee. There's always the best Breville espresso machine available, you just have to lean on the machine that will bring the best coffee experience.

The post Breville Espresso Machine Comparison Guide: A Must Read Before You Buy appeared first on BIG Cup of Coffee!.

By: Dave Hoch
Title: Breville Espresso Machine Comparison Guide: A Must Read Before You Buy
Sourced From: bigcupofcoffee.com/breville-espresso-machines/
Published Date: Tue, 31 Aug 2021 15:58:32 +0000

Always check our latest articles at...
https://coffeecutie.com/espresso-machines