It's no secret that grinding your coffee beans at home is the best way to ensure you have the freshest cup of espresso. But there are so many different types of grinders on the market it can be hard to decide which one will suit your needs best.
The Breville Dose Control Pro is a grinder with lots of features that make it stand out from other models, but will this grinder live up to its hype? Read on for the full Breville Dose Control Pro review, and don't miss our What You Should Know Before You Buy section to know more about this coffee grinder.
Stainless steel conical burr
The Breville Dose Control Pro
BURRS: Stainless steel conical burrs minimize grind heat and protect essential oils
SETTINGS: 60 precise grind settings from ultra-fine to coarse
VERSATILE: Great for espresso, percolator, drip, or French press
CONVENIENT: Adjustable razor dose trimming tool and user-friendly grind time dial
DESIGN: Compact and sleek design
Affiliate links / Images from Amazon Product Advertising API or Directly from the Manufacturer. #CommissionsEarned
Overview
The Breville Dose Control Pro allows you to explore the art of making delicious espresso with its wide range of 60 grind settings. These grind settings enable you to grind coffee beans from fine espresso grinds to a coarse grind perfect for your French Press coffee.
Breville is a global kitchen appliance brand founded in 1932. It has grown into the beloved household name known worldwide for boosting creativity through thoughtful design and inspiring inventiveness with its iconic lineup of smart home appliances.
Overview of the Grind Control
The Breville Grind Control is truthful to its name: this machine gives you complete freedom to control the dose of ground coffee any moment you want it, without being too complicated. It has over 60 grind settings that allow you to tweak your grind without worrying about losing essential coffee oils. Best of all, the conical burrs in this grinder are made of high-quality hardened stainless steel to minimize grinding heat so it's a perfect companion for any brewer.
The Good:
One of the best features of this grinding machine is that it employs the versatility of hardened stainless steel conical burrs. It's corrosion-resistant and maintains the quality of coffee beans even after it's grounded. You can ground the beans in various grind settings and expect to always get the right amount of coffee for a range brewing method you prefer.
The machine is simple to clean and maintain with warm soapy water to ensure that there'll be no coffee oils or residue stuck in removable parts. It's easy to operate because you'll only need to plug it in and do the initial setup to put the hopper in position. Likewise, it can grind directly for a mess-free grinding.
Once you complete the setup, just pour the coffee beans in the hopper, pick your desired grind setting, select the timer setting for the amount of coffee you need and push the start button. The next thing you'll know, you're already brewing your favorite beans.
The Bad:
Breville Dose Control Pro isn't a perfect grinder. It has some minor setbacks that you should be aware of. For example, you won't be able to switch out the beans instantly because of the distance between the grinds container and the grinder spout. You'll need to grind one more batch before you can fully empty the hopper.
Don't forget that the machine's precision, which you won't get in cheaper grinders, makes it an expensive grinder.
The Bottomline:
The Dose Control Pro is a simple espresso grinder that comes with practical functions to create a fresh cup of coffee. This grinder machine makes it easier to grind beans than the usual hand grinder. It's a sensible device to pair with any espresso machine because of its over 60 grind settings. Meaning, you can prepare the exact amount of coffee grounds you'll need to brew fresh beans. It's simple to operate and clean with the grinds catcher tray for overspills.
However, the practicality and precision that the Breville Dose Control Pro offers come with a high price tag. There is only a 1-year limited warranty. If you really want some protection for the product, buy with a Visa Signature card and double the warranty or look at the OXO Brew which offers a limited lifetime warranty.
Features & Benefits
Performance and Quality
Direct Grinding
The Breville Control Pro grinds directly whether you're using a portafilter, a filter basket, a gold-tone filter basket, or a paper filter. It's a versatile grinder because it allows you to use various filters of your choice.
Precision Electronic Timer
The electronic timer of the Breville Dose Control Pro is as precise as the Swiss watches when it comes to exact doses of ground coffee. The electronic timer allows you to adjust the time by 1-second increments to achieve a controlled dose of ground coffee or any brew size desired.
Pause Function
The Dose Control Pro sure can grind directly. Yet, compared to other coffee grinders, this machine has a pause function that permits you to halt the grinding operation to collapse or settle the coffee beans in the portafilter.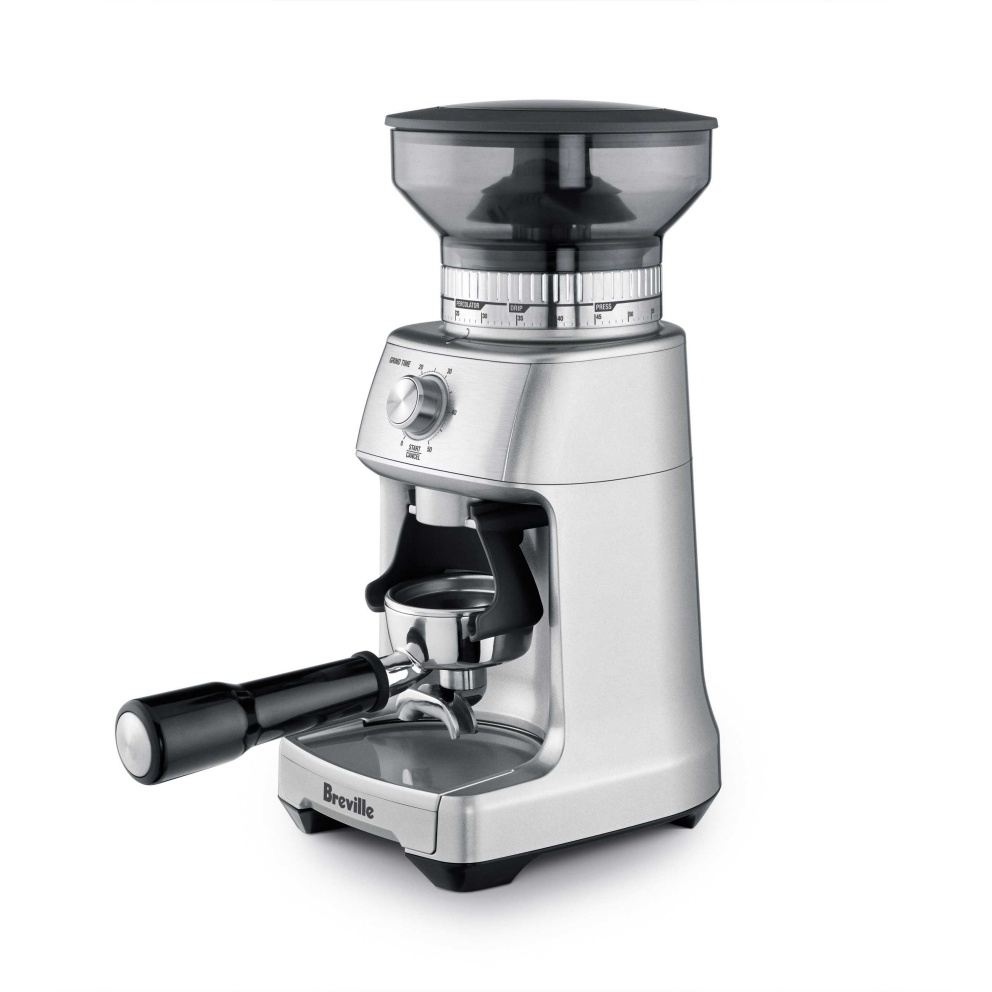 Design
Simple Display
Unlike other smart coffee grinders, the Dose Control pro doesn't have an LCD screen that allows you to see your grind settings. Yet, you can program the settings in Dose Control Pro with its basic seamless buttons and dials that most probing espresso aficionados love.
Grinding Mechanism
This bean grinder uses a stainless steel conical burr grinder to effectively grind the coffee beans while minimizing the heat to protect the essential oils of the coffee beans from dissipating.
Automatic Thermal Safety Shut Off
This coffee bean grinder is a non-fire hazard kitchen appliance. It has an automatic thermal safety shut-off system that protects the motor from overheating. If the machine isn't used for 5 minutes, the Breville Dose Control Pro automatically shifts to power saving or sleep mode.
Grinding Chamber
The Dose Control Pro has a grinding chamber that minimizes the static before it dispenses coffee beans. When you grind coffee beans, it naturally becomes static because of the friction created when two materials come in contact (the conical burr grinder and the coffee bean).
Some coffee lovers use the Ross Droplet Technique (RDT) to minimize the static in the coffee beans, especially when grinding a single shot of espresso. The RDT hack is done by spraying or adding droplets of water to the coffee grounds. However, when you use the Dose Control Pro, static in coffee beans will be the least of your concern.
Hardened Stainless Steel Conical Burrs
The Breville Dose Control employs hardened stainless steel conical burrs, which guarantees low static in coffee beans. Whether you are grinding coarse or fine grinds, expect that the burrs reduce grind heat to protect where the fresh coffee flavor resides.
Coffee Bean Hopper Locking System
The hopper of the Dose Control Pro has a locking system to ensure that the machine won't make a mess while grinding beans. Also, it aids in easy removal and coffee bean transfer.
Dual portafilter
The Dose Control Pro comes with two portafilter cradles that allow you to grind coffee beans simultaneously. You can use different coffee filters with these portafilters, whether you're brewing an espresso or drip coffee.
Usability
Programmable 60 Grind Settings
This coffee grinder has precise 60 programmable grind settings which makes it a practical device to pair with any espresso machine. It has an adjustable upper burr, which is primarily responsible for varied grind settings in the grinder. This setting enables you to use the coffee grinder to grind beans for various brewing methods, from simple drip coffee and French Press coffee to barista-quality espresso drinks.
Manual Grind
This grinder is a versatile espresso grinder because you can also operate to manually grind fine or coarse beans for your espresso or French Press coffee. The manual mechanism of this grinder allows you to have total control over how much coffee beans the hopper dispenses.
Direct Grind
The Dose Control Pro allows the user to grind directly to the paper filter, gold-tone filter, or portafilter. You can choose from the 60 grind selections' main menu for finer settings of coffee grinding if you want to brew espresso.
Durability
Breville manufactures kitchen appliances with designs based on high-quality standards. The manufactured coffee grinders, such as Smart Grinder Pro and Dose Control Pro, were built to the exacting standard. The conical burrs are made of stainless steel, which is known for minimizing heat build-up and preventing static in the ground beans.
Specifications
Capacity

Bean Hopper Capacity: 12oz Coffee Bean Capacity.

Construction Materials

Stainless Steel Conical Burrs

Dimensions (WxDxH)
Power
Settings

60 Precise Grind Settings.

Voltage
Warranty

One year limited product warranty
Accessories Included
Two Portafilter cradles
Portafilter Cradle– It's a small portafilter that measures 50-54mm.
Portafilter Cradle– It's a large 58mm portafilter.
The Adjustable Razor–Trims the puck to the right level for consistent extraction. It Also includes interchangeable razors for 50mm, 54mm, and 58mm portafilter baskets.
Cleaning
The Breville Dose Control Pro is one of the easy-to-maintain coffee grinders in the market. Most of its parts are removable and dishwasher safe. With regular maintenance and cleaning it can be used for a few years. For basic cleaning, what Breville advises are:
Unplugging the cord of the machine from the power outlet.
Removing the bean hopper from the machine and emptying it.
Wash the removable parts with soapy water, rinse them thoroughly, and air-dry.
Wipe the external casing of the machine with a soft, damp cloth to remove coffee stains.
Another part of the coffee grinder that you should also maintain is the conical stainless steel burr. The conical burrs play an essential role in preparing a good espresso. It also protects essential oils from dissipating allowing the grinds to maintain their coffee flavor and undertones so you can enjoy delicious coffee each time you mill.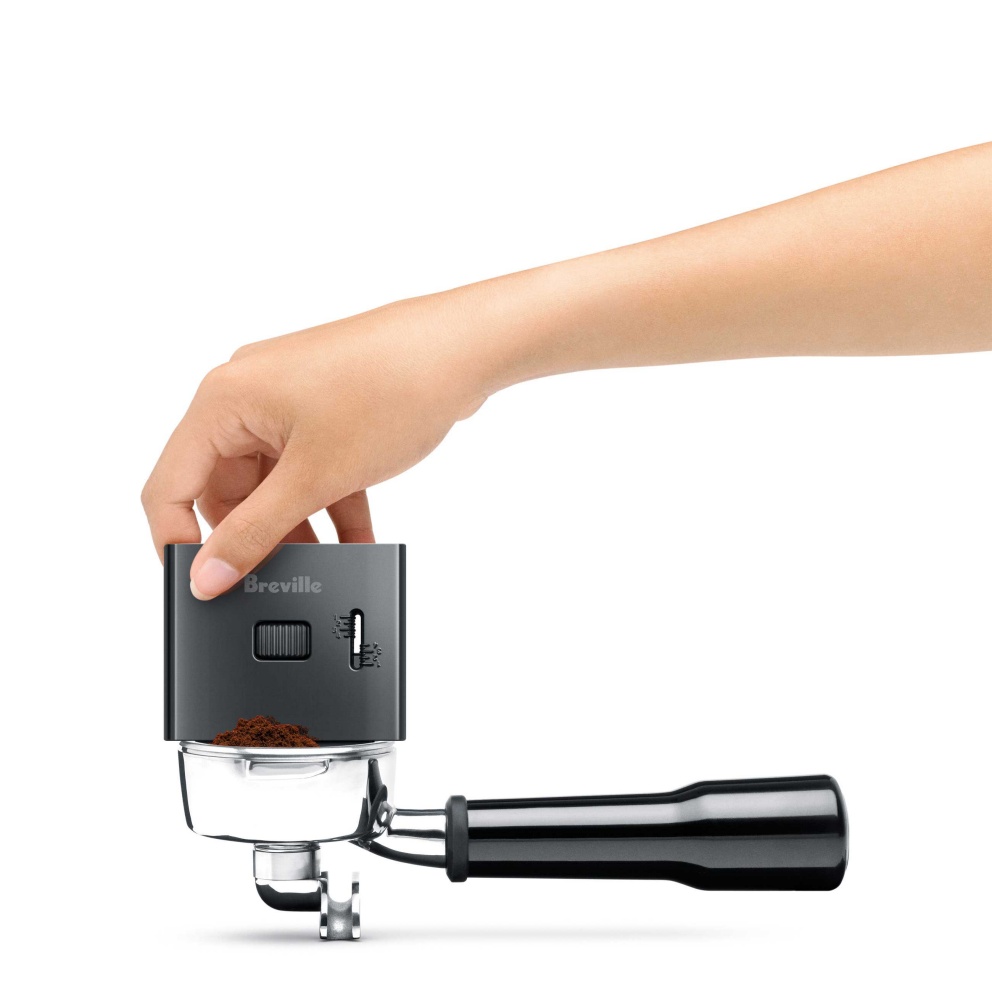 What You Should Know Before You Buy
To help you decide if Breville Dose Control Pro is the best purchase for you or not, here are some of the essential facts about this coffee grinder that you should know.
The Dose Control Pro is a great mid-range coffee grinder for the price because it grinds coffee consistently.
The grinder machine uses conical burrs made from stainless steel to ensure minimal heat generation as it grinds the coffee beans.
The conical burrs in this grinder can extract coffee flavor as the beans are ground directly from the hopper.
It comes with adjustable upper burrs that allow the machine to mill freshly roasted beans in 60 grind settings of choice.
The machine's portafilter holder, grinds catcher tray and bean hopper are removable.
It also has adjustable razor dosing that applies to both 50mm – 54mm and 58mm portafilter.
The Dose Control Pro is a space-savvy kitchen appliance because it is the small coffee grinders often found in gourmet coffee shops.
This coffee grinder is best paired with Duo Temp Pro if you don't want to spend much money for an entry-level kit.
The machine is easy to clean and maintain.
It has a pause function, allowing you to adjust the coffee beans in the hopper.
You can use this coffee grinder for any type of brewing method that you prefer.
FAQ
What's the difference between the Smart Grinder Pro and the Dose Control Pro? 
The critical difference between the Smart Grinder Pro and the Dose Control Pro is apparent on the control panel, weight, and increments in adjusting the grind timer. First, the Smart Grinder Pro has an LCD screen display to see your grind settings in numbers. At the same time, the Dose Control Pro has seamless buttons and dials to customize the settings. 

Second, the Dose Control Pro is lighter with 4.5 lbs than the Smart Grinder Pro, which weighs 6.4 lbs. Lastly, the Smart Grinder Pro has a shorter adjustment increment of 0.2 seconds than the Dose Control Pro's 1 second. 
How to adjust coffee grinders dosage?
You should adjust your coffee grinder dosage based on the recipe. Dose refers to the volume or grams of ground coffee dictated by a coffee recipe. Some recipes are for one rounded tablespoonful, some are for four tablespoons, and the latest scientific studies have shown that one teaspoon of coffee can result in an excellent brew.

Recipe recommendations are all over the board these days because so many people prefer different levels of caffeine or flavor intensity. For example, a single serving experiment will call for less than 16g, but you'll need more than 35g if you're making it for six people at once! As long as you know what your cooking requirements are ahead of time, this shouldn't pose too much cause for concern.
Do Breville Grinders have impeller defects?
Breville already resolved the impeller issues with the earlier models of the Dose Control Pro by replacing it with a metal impeller. The machine now uses metal impellers instead of plastic impellers, preventing the device from experiencing jams after grinding coffee beans.
Alternatives
The Breville Smart Grinder Pro
The Breville Smart Grinder Pro is a coffee grinder you can get for under $200. This machine employs stainless steel burr grinders that will mince your beans to the desired type, whether drip or French press. It has an attractive design thanks to magnets that hold its container securely, so there are no messes on countertops!
Precision Grind Setings
Breville The Smart Grinder Pro
Stainless steel conical burrs designed to minimize grinding heat and protect the essential oils in the coffee bean
60 precise grind settings from the finest Espresso to the coarsest French Press Grind. Voltage: 110 120 Volts. Power: 165 Watts
Precision Electronic Timer allows users to adjust grind time in 0.2 second increments and consistent dose every time
18 ounce coffee bean capacity with locking system for easy removal, storage, and transfer of the bean hopper
Grind directly into portafilter, grinds container, gold tone filter basket or paper filter
Portafilter cradle small 50 54 millimeter; Portafilter cradle large 58 millimeter
Affiliate links / Images from Amazon Product Advertising API or Directly from the Manufacturer. #CommissionsEarned
OXO Conical Burr Grinder
The OXO Brew Conical Burr Grinders are a BPA-free, stainless steel grinder to crush coffee beans to your desired consistency. It comes with 15 settings and micro ones too! And because it's intuitively designed, you'll have no trouble operating this model, which has an easy one-touch button for setting preferences. The best part is it comes with a Limited Lifetime Warranty!
Limited Lifetime Warranty!
OXO BREW Conical Burr Coffee Grinder with Integrated Scale
OXO On Conical Burr Grinder built-in scale measures grounds by weight instead of time, eliminating the need for a separate scale; automatic shutoff ensures a precise amount of ground coffee every time
Durable, 40 mm stainless steel conical burrs create uniform grounds for up to 38 settings -- from fine for espresso to coarse for French press or cold brew
High torque/low speed motor won't overheat beans, preserving flavor and generating minimal static for less mess. Built-in overheating detection protects motor for long life
Use the single dial to switch between Cups Mode, Grams Mode or Manual Mode. In Cups mode, you grind based on the number of cups of coffee you would like to brew.
No-bean detector won't let you grind if the hopper is empty.Voltage is 120V/60Hz
Hopper holds 16 oz of coffee beans and features a "trap door" to hold beans in when hopper is removed. Grounds keeper holds up to 125 grams -- enough ground coffee to brew 12 cups
The OXO Better Guarantee: If you experience an issue with your OXO product, get in touch with us to repair or replace it. We're grateful for the opportunity to learn from your experience, and we'll make it better
Affiliate links / Images from Amazon Product Advertising API or Directly from the Manufacturer. #CommissionsEarned
KitchenAid Burr Coffee Grind
The KitchenAid Burr Grinder offers a lower price point and over 70 options for programmable settings. Not too shabby. It also has the same one-year limited warranty as the Breville grinders.
Lower Price Point
KitchenAid Burr Coffee Grinder
70 Precise Settings for your perfect grind - from coarse for Cold Brew and French Press, to fine for Espresso. Easy reference brew method icons help to easily match the grind size to the brew method.
Automatic Smart Dosing Technology to select the cups or shots desired; grind-time is adjusted accordingly for perfect dosing, regardless of grind size or brew method.
Built-In Adjustable Portafilter Holder to grind directly into 54-mm or 58-mm portafilters, perfect for espresso making.
Anti-Static Technology helps reduce static charge for a clean coffee grinding experience, with less mess.
10 oz* Removable Top Hopper to save and transfer unused beans back into a sealed container for fresh-keeping and to easily switch beans between brews. *Capacity varies based on bean type and roast.
Affiliate links / Images from Amazon Product Advertising API or Directly from the Manufacturer. #CommissionsEarned
Verdict
The Breville Dose Control Pro is a coffee grinder that allows you to be experimental with your brewing methods, thanks to its 60 grind settings that is quite a range. As the whole machine grinds, the stainless steel conical burrs protect the essential oils of the coffee beans from dissipating. With the Dose Control Pro coffee grinder, you can always mash the coffee beans with consistency.
Stainless steel conical burr
The Breville Dose Control Pro
BURRS: Stainless steel conical burrs minimize grind heat and protect essential oils
SETTINGS: 60 precise grind settings from ultra-fine to coarse
VERSATILE: Great for espresso, percolator, drip, or French press
CONVENIENT: Adjustable razor dose trimming tool and user-friendly grind time dial
DESIGN: Compact and sleek design
Affiliate links / Images from Amazon Product Advertising API or Directly from the Manufacturer. #CommissionsEarned

Other Breville related articles you may be interested in:

Espresso Machines:

Breville Espresso Machine Comparison Guide: A Must Read Before You Buy

Coffee Makers:

Grinders:

Milk Frother:

The post Breville Dose Control Pro: The Smart Coffee Grinder appeared first on BIG Cup of Coffee!.

By: Cheryl De Torres
Title: Breville Dose Control Pro: The Smart Coffee Grinder
Sourced From: bigcupofcoffee.com/breville-dose-control-pro/
Published Date: Thu, 28 Oct 2021 10:43:11 +0000